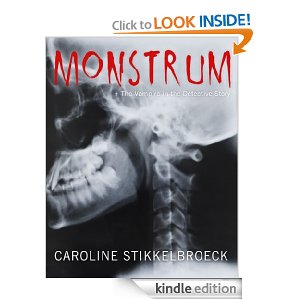 The vampire edition is released today for your reading pleasure! It combines film, television, and vampire lore and legend. It's an attempt to provide a brief popular culture criticism and review of the cult of the vampires and those who are prolifically engaged in its discourse. This issue was inspired by Caroline Stikkelbroeck's MA thesis, "The Vampire in the Detective Story," also available today on the Amazon Kindle.
This edition wouldn't have been made possible without the cooperation and support from Anthony Hogg, Bertena Varney, and Caroline Stikkelbroeck. We've all learned a lot and we've developed a strong relationship to pursue this dream. It existed in our imaginations and with their help, we really pulled together and created something from only an idea.
This isn't the end, naturally, this is only the beginning. We want to continue this investigation further with this website, Vampirologist.com. There's yet more that we can explore, discuss, and share, perhaps leading to a new-found cooperation to create or continue the Vampire Edition in the year to come!

Contents in this Edition:
Monsters are Symbols, excerpt from The Vampire in the Detective Story –
Caroline Stikkelbroeck

Interview with a Vampire Author – 
Sufi Mohamed & Caroline Stikkelbroeck

Bela Lugosi's Best Vampire Films – 
Charles E. Butler

The Vampire Diaries – 
Helen Marukh

Fear and Loathing in the Twilight Saga – 
David MacDowell Blue

Thirst, A Korean Expression – 
Seung-woo Baek

Nosferatu, Dracula, 30 Days of Night – 
Lachelle Redd

Classic Dracula Film Reels – 
Mo Hussain

Will the Real Vampires Please Stand Up – 
Stavros Cockrell

Fright Night 2 – 
Bertena Varney

Strigoi, a Romanian feast – 
Adam Wing

Buffy the Vampire Slayer – 
Andy Boylan

The Faces of Dracula
– Dax Stokes

Beautiful Savage – 
Scarlette D'Noire

Vampire Gallery – 
Roger Koch & Charles E. Butler
Vampire Edition Gallery
[custom_gallery gallery="1″ width="190″ height="190″]
Click to Read