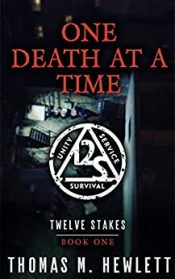 One Death at a Time
by Thomas M. Hewlett
RunTogetherWords Publishing, US$8.99 (Kindle)
Published November 21, 2013
Reviewed from e-copy
One Death at a Time is an urban fantasy with a detective noir underbelly, as such it suits the first person, present tense, which so often accompanies the urban fantasy genre without necessarily working.
The book starts with detective and vampire, Jack Strayhorn, on a missing persons case when his missing person winds up dead along with a councilman (who, we then discover, is one of the fae).
This is urban fantasy in which the supernatural creatures hide in plain sight, in the book we come across fae, vampires, werewolves and (briefly) a witch. Of course, it is the vampires that we are interested in and Hewlett introduces us to unusual lore. These vampires walk in daylight (though they are weaker) and enough damage to head or heart will kill them.
It is how the vampires come to be that was fascinating. Certain persons are predisposed to being vampires and, on death, they turn, jack was a dirty, drunken cop who was murdered during the Black Dahlia investigation. Of course, he awoke before his body was found and his new urges, along with drinking to blackout, eventually had him hunted as a killer cop.
Interestingly the book suggests that AA was invented by vampires for vampires (their work with human drunks allow them to hide in plain sight, with vampire only meetings allowing the vampires to work on their addiction). Prior to this most vampires, who have a constant urge to attack, kill and drink, didn't last very long.
We also get a vampire religious cult, the Order of the Holy Dead, who seem to be manipulating things in the background and believe they rule the vampires. They have "elect", vampires who kill for them, and they believe Jack to be one of these, listed as such in the Book of Life. This mystical tome also, they claim, contains the names of all those who is to become a vampire.
The writing in this is crisp, sharp and dripping with that hard-boiled noir the story demands. If I had a complaint it is probably around the fact that the supernatural peril that stalks Jack seems so powerful that one would have thought it would have dealt with him through the investigation—but perhaps we'll discover more about this in book two.
The character of Jack is very well drawn, his battle with dependency is brilliantly and believably drawn—the author drawing on his own past. 7 out of 10, a very good start to the series.
---
One Death at a Time, the first book in the Twelve Stakes series, is now published under the Twelve Stakes Publishing imprint and available on Kindle. A paperback version was published on August 5, 2016.