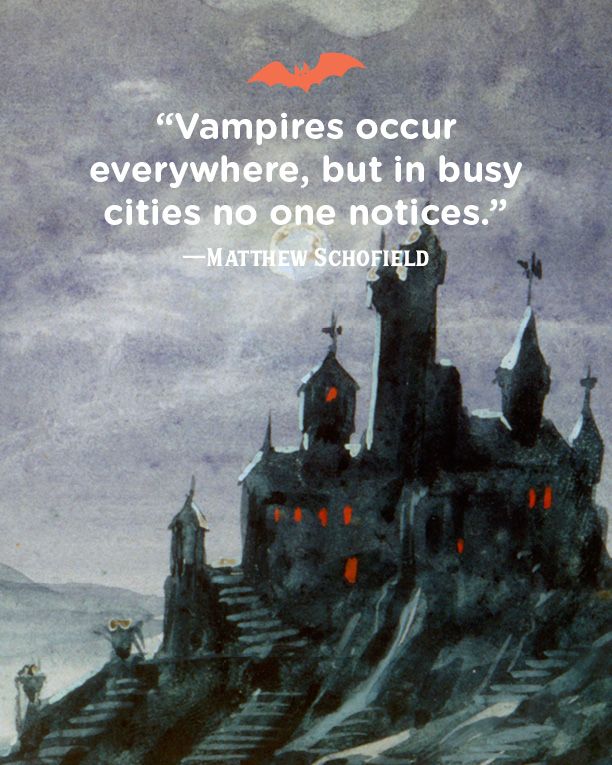 The meme reads: "Vampires occur everywhere, but in busy cities no one notices." You've probably seen it on Facebook, Twitter or Pinterest—or even on t-shirts and other merch. But where does the quote come from?


The quote is attributed to Matthew Schofield, but who is he? A vampire expert? Is it taken from one of his books?
No. The line comes from an article Schofield—a freelance copyright and content writer—wrote in 2004, picked up by Knight Ridder Newspapers (now McClatchy Newspapers), then published under various titles.
I'm not sure which newspaper first published Schofield's story—so, I asked him. He said: "It was written for Knight Ridder, But also was sent out on the Knight Ridder/Tribune wire service. I only Ever saw it in print in an Australian newspaper."
Whatever the specific first appearance was, his article concerned the reaction of villagers to the Romanian State Police's pursuit of the people involved in the exhumation of "Toma Petre."
A resident of the Romanian village of Marotinu de Sus, Petre was suspected of becoming a "strigoi" after death. So, his relatives handled his alleged predations in the only way they knew: dug him up, cut out his heart, burned it, then drank the ashes mixed with water.
The reactions, however, were not centred on the exhumation, but on the police involvement: "'What did we do?' pleaded Flora Marinescu, Petre's sister and the wife of the man accused of rekilling him. 'If they're right, he was already dead. If we're right, we killed a vampire and saved three lives. … Is that so wrong?'"
The quote embedded in the meme stems from a throwaway line in Schofield's article:
On a recent afternoon, the village's single store, which also serves as its bar, was filled with men drinking hard as they explained the vampire facts. Most had at least one vampire in their family histories, and many were related to vampire victims. Most had learned to kill a vampire while children.

Theirs is not a Hollywood tale, and they laugh at Hollywood conventions: that vampires can be warded off by crosses or cloves of garlic, or that they can't be seen in mirrors. Utter nonsense.

Vampires were once Catholics, were they not? And if a vampire can be seen, the mirror can see him. And why would you wear garlic around your neck? Are you adding taste?

No, vampires are humans who have died, commonly babies before baptism or people unfortunate enough to have black cats jump over their coffins. Vampires occur everywhere, but in busy cities no one notices, the men said. [my italics]
I'm not sure if Schofield—or the men quoted—knew it, but the observation echoes one made by French philosopher, Voltaire, in 1772: "It was in Poland, Hungary, Silesia, Moravia, Austria, and Lorraine, that the dead made this good cheer. We never heard speak of vampires in London, nor even at Paris. I confess, that in both these cities there were stock-jobbers, brokers, and men of business, who sucked the blood of the people in broad day-light; but they were not dead, though corrupted. These true suckers lived not in cemeteries, but in very agreeable places." (my italics)
However, the contrast between these observations couldn't be more stark: Voltaire was being sarcastic, but these men meant it.
Images
"Vampires Occur Everywhere": Thomas Broadbent, "This Week's Vampy Quote," Facebook, June 24, 2020, https://www.facebook.com/groups/234537616649976/permalink/2484517588318623.

Popular quote (1): Google reverse image screenshot by the author, taken on June 29, 2020, of the meme's appearance in Country Living Staff, "20 Best Vampire Quotes You Can Really Sink Your Teeth Into This Halloween," Country Living, October 9, 2019, https://www.countryliving.com/life/g28452084/vampire-quotes/?slide=10.

Popular quote (2): Screenshot of Google image search by the author, taken on June 29, 2020.
---
Notes
---
If you enjoyed reading about this find, you might also like: