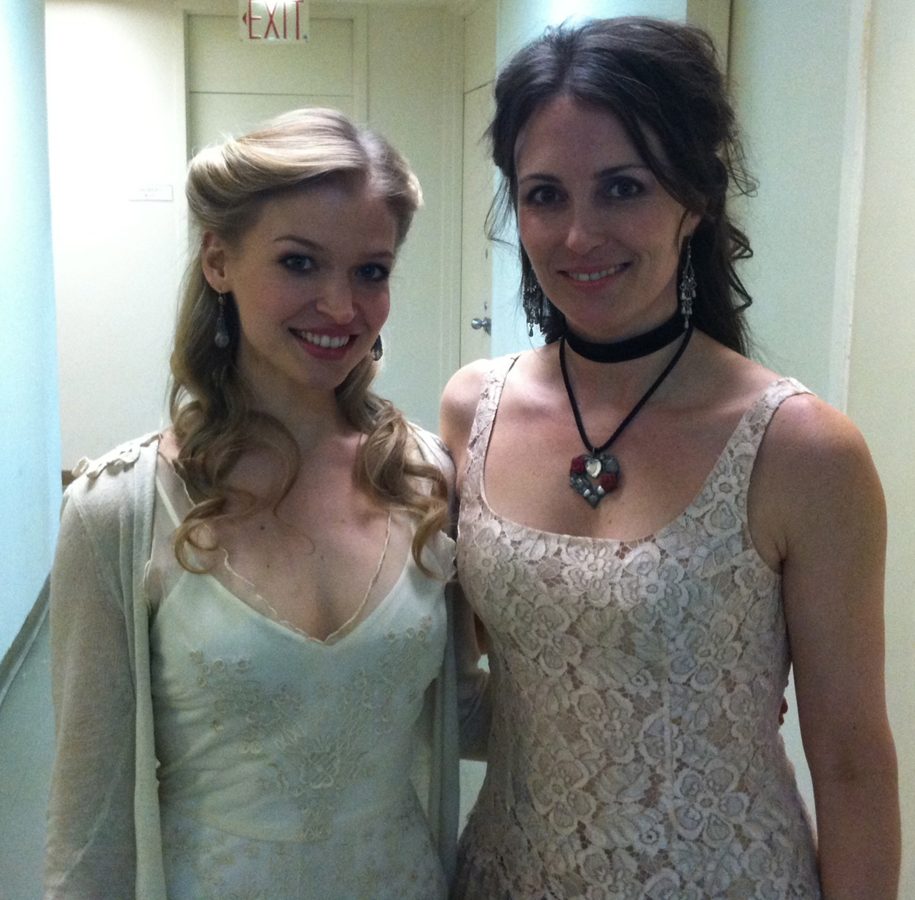 Readers here will almost certainly already recognize the name Carmilla and very likely think of that story in terms of either the current web series or the deliciously cheesy Hammer film The Vampire Lovers (1970). A few more may realize several TV adaptations of Joseph Sheridan Le Fanu's story made it to the small screen, most famously that for Nightmare Classics on Showtime. Some might even know about several radio play adaptations.
But what about live theatre? Here the odds aren't that good, which in my eyes is a shame. Not only because I love theatre, but because of my Zombie Joe's Underground Theatre Group's theatrical adaptation of LeFanu's work which has seen two productions so far.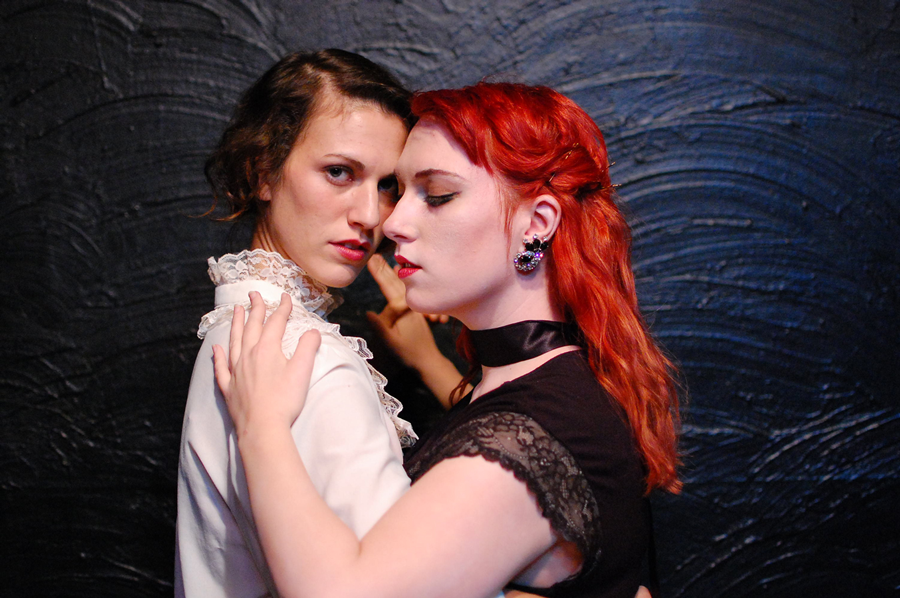 A fairly well-known production of a very grand guignol Carmilla premiered in Chicago at the Wildclaw Theater back in 2011. Several decades earlier, the experimental troupe LaMomma in New York did a kind of chamber opera version.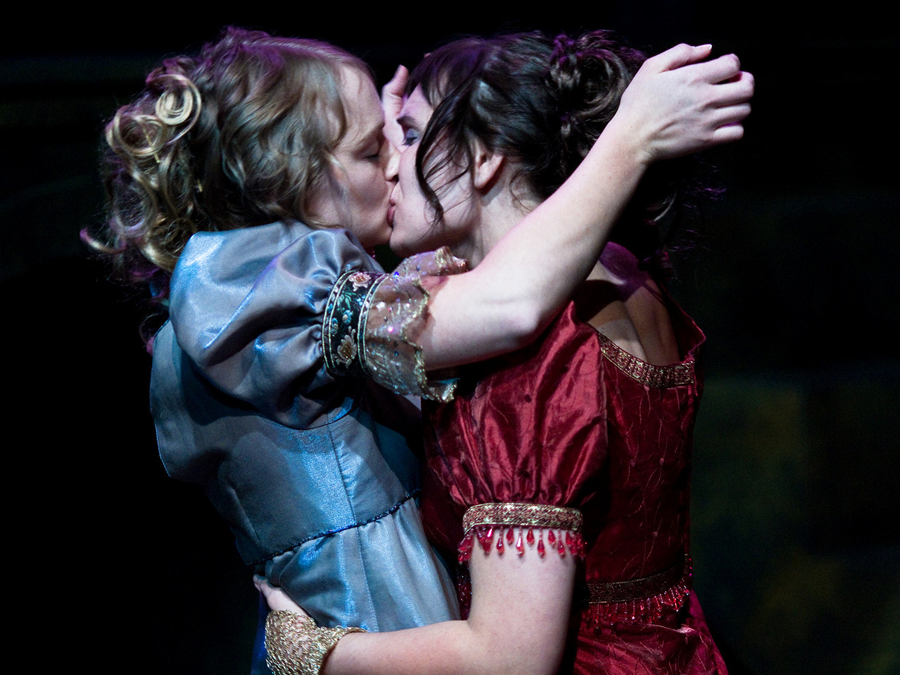 On March 3, 2015 the York Theatre Company hosted a single performance—a staged reading of a new musical also based on this, my own favorite vampire story ever. Here is how the press release described the show (Levitt 2015):
Inspired by the 1871 [sic] novel by Joseph Sheridan Le Fanu, Carmilla follows Vanessa, an adorable young Englishwoman, who lives with her father in an inherited Gothic castle in Central Europe, surrounded by superstitious peasants. She is about to marry a handsome Viennese doctor, when passion comes into her life for the first time in the form of Carmilla, a beautiful, supernatural, irresistible presence.
Let me be frank, this immediately set off some alarms. The word "adorable" frankly seems strange, not least because the context seems anything but ironic. Also, who is Vanessa? Well, in context, pretty clearly this is intended as Laura—following the long tradition of changing the narrator's name for some reason into Emma, Margaret, Georgia, Susan, etc. But more importantly, she's engaged to be married? When the cloistered nature of that character's life remains key to the whole tale?
Keep in mind I'm not a purist. I felt perfectly okay with Tim Burton's re-imagination of Dark Shadows (2012) and didn't mind at all James V. Hart and Francis Ford Coppola adding a love story to Bram Stoker's Dracula (1992). My own theatrical adaptation of Carmilla changed quite a few details, mostly to help recreate the same emotional impact as the original audience experienced (my success or failure in that regard remains a separate question). So no objects to change per se. Yet honestly I don't think that justifies removing what seem to me vital elements of the story.
Imagine if you will watching Murder on the Orient Express and knowing who the killer was from the moment Mr. Ratchat died? Or if someone else had turned The Strain into a TV series other than Guillermo del Toro and Chuck Hogan—turning the vampires into brooding romantic heroes and heroines out to save the world from governments readying some kind of superweapon. That's rather more fundamental than altering a name or the sequence of events, don't you think?
But I did an interview with the author of the musical's book (i.e. the script as opposed to the music itself). Mr. Joel Gross came across as a very nice person, a bit reluctant to reveal spoilers (quite understandably). His show is still in development, after all. Still evolving.
And to be honest, what he described intrigued me. Some of it sounded familiar, though. He said he avoided other adaptations of LeFanu's work specifically to avoid letting it impact him. All well and good. However, I can tell he's recreated several ideas used before, not least giving Laura a suitably young male love interest (most versions do—and Laura/Vanessa usually lose all trace of a personality in the process). Given the lack of anyone who would seem to be Spielsdorf in the press release, one presumes this "Johan" will function as the vampire hunter—rather like Harker or maybe Dr. Seward in Bram Stoker's vampire novel. Not the first time that has been done.
Or perhaps it will be Vanessa's father, a retired Colonel, who serves that function (Mr. Goss said he remains heartbroken over the death of his wife, who may have been Carmilla's victim—again, seen that before). Making Carmilla's mother (if that is indeed who she might be) a stronger, more central character who acts as a voice of darkness in Carmilla's soul reminds me of the Canadian web series (as well as both Lestat in Rice's Interview with the Vampire and LaCroix in the late, lamented Forever Knight).
None of these are bad things, after all. He emphasized his vision of both Vanessa and her father as "fish out of water," proper Victorian folk in the rather lavish culture of Europe. This has nearly nothing to do with the original, but it could work. More, I felt some genuine charm with the (very theatrical) image of Carmilla playing a violin before going out to kill peasants (although—shades of Dracula's Daughter, 1936).
So at this stage I am left cautiously hopeful, fairly eager to see the finished product, but not totally confident. Does this say something about me, or about this other playwright adapting the same story I have? Probably both. But it also says something about Carmilla itself, about its power as a story to stir up so very many reactions to same hundred pages or less time and again.
References
Blue, David MacDowell. 2015. "Carmilla Musical on Its Way?" Vampires.com, March 16. Accessed March 16, 2015. http://www.vampires.com/carmilla-musical-on-its-way/.
Levitt, Hayley. 2015. "New Musical Carmilla Gets a Staged Reading at the York Theatre Company." TheaterMania, Feb. 26. Accessed Feb. 26, 2015. http://www.theatermania.com/new-york-city-theater/news/carmilla-york-theatre-staged-reading_71894.html.
Check out David's blog, Night-Tinted Glasses, and the website for his Carmilla adaptation. His play's script is available on Amazon.
He has also written The Annotated Carmilla (2011; 2015) and  Your Vampire Story (And How to Write It) (2012) and has been a Vampires.com writer for about five years.