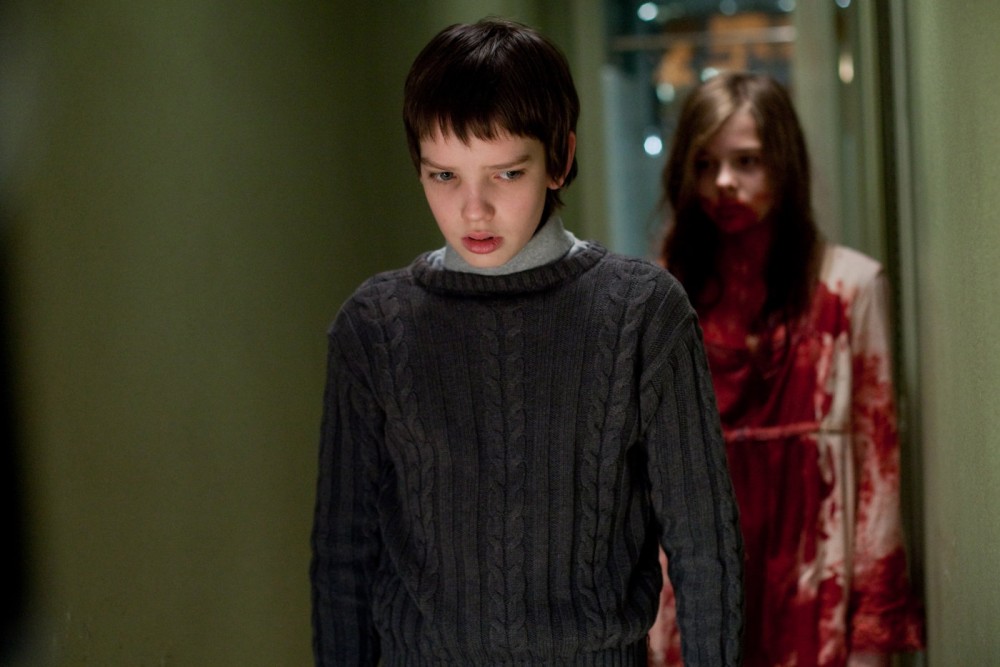 One thing I noticed was the backlash that occurred, and is still occurring, against the film Let Me In (2010). Even before it was seen, people were calling it unnecessary as it was a remake of the Swedish film Låt den rätte komma in (Let the Right One In, 2008)—itself based on John Ajvide Lindqvist's 2004 novel of the same name.
The Let the Right One In adaptation was a fantastic film. It perhaps had flaws; the character Håkan (Per Ragnar), for instance, was drawn in a tragi-comedic sense rather than the monster he was in the novel. However one cannot underestimate how good the film actually was—this was despite the Magnolia Home Entertainment/Magnet US home DVD release changing the subtitles from the theatrical release (RobG 2009), which considerably dumbed-down the dialogue for a home audience.
When I went to see Let Me In (2010) at the cinema I was utterly blown away. To me the film took the story—for despite the protestations of it being a scene for scene remake it certainly isn't, it has absolutely different scenes, subtexts and symbolism—and did something very special. To me it was an even better film. Now I appreciate that everyone has different tastes, and so I do not expect everyone to like the same things, but it does strike me that there is a degree of self-hatred, pretention and even a little bit of racism underlying many of the claims that it is a weaker vehicle.
We, collectively, cannot seem to stand the idea of an American remake (or even a remake by the US movie industry of an American film) to the point that we (again collectively) are set against the vehicle no matter what. Perhaps I'm wrong on this but the same naysaying seems deafening following the announcement that A&E are to make a TV series based on the story (Goldberg 2015). Further, that naysaying has opened up a commentary again that Let Me In was either 1) a poor relation or 2) superfluous.
When it comes to a potential series people forget that the book was massively more horrific than either film. It explored the dark heart of society and much of the horror came about not because of the vampirism but because of much more mundane horror. The horror of child abuse, the horror of substance abuse, the horror of domestic violence—as I described it in my review: "As the book progresses we never leave this suburban nightmare behind, Lindqvist drawing a living, black-hearted city around us." (Boylan 2007)
Main character Oskar was a shoplifter, something neither film touched on. The bullying he suffered at school was a million-fold more harrowing than either film captured. In a supernatural sense, neither film looked at the internal physical changes the vampirism causes, neither really went into Eli/Abby's past—indeed the infamous "twist" is unaddressed in Let Me In and essentially hinted at in Let the Right One In and neither film included Håkan/the Father becoming a vampire himself. If I have a worry it is that the TV series will eschew themes that could make it one of the edgiest television shows ever made.
I have had it suggested to me that the book still is not long enough to support a series, however if a 108 minute movie—From Dusk Till Dawn (1996)—can be translated successfully into a ten 45 minute episode TV series (with obvious changes, admittedly) then I can't see this being the case.
Then there is the fact that Lindqvist wrote a sequel to the book, in the form of a short story entitled "Låt de gamla drömmarna dö" (Let the Old Dreams Die). This was in a collection of shorts originally called Pappersväggar (Paper Walls) and released in Sweden in 2005. The collection was released in English in 2011 and renamed Let the Old Dreams Die, with that story added to the collection.
In an afterword Lindqvist tells us that when the book was filmed as Let the Right One In, he watched it and was surprised by the inference that Oskar was Håkan's replacement. He understood how the filmmakers had picked up on this inference but it wasn't his intent. Of course in Let Me In this recruitment of a replacement becomes a central element, and Lindqvist notes that this is natural and right for the film. However he wanted to make clear his thoughts on the relationship. The short is actually about new characters whose lives were touched by Oskar and Eli and is set some 28 years later.
Further, the collection has a short story entitled "Village on the Hill," which has nothing to do with vampires but is set in the same buildings as Let the Right One In and opens a scope for a connected universe that could be explored in the series.
I have seen comments on Facebook like "How many more English versions are they going to make." To me this sums up the anti-remake backlash, in that it is peculiarly anti-English language and (as some more detailed comments reveal) anti-American, and yet I can imagine—had social networking existed in the 19th Century—a similar backlash against French Theatre.
I am, of course, referring to the French love of Polidori's story The Vampyre; A Tale (1819). This was turned into many stage plays, melodramas and operas. Its adaptations are a major feature of Roxana Stuart's book Stage Blood: Vampires of the 19th Century Stage (1994), the majority of the book being dedicated to that subject. It even spawned a French novelised sequel by Cyprien Bérard in 1820.
The plays adapted the short story into French and were then re-adapted from the French into English or, in Opera format, from French into German. Even Alexandre Dumas, père, got in on the act mentioning Ruthven (and Byron) in 1844's The Count of Monte Cristo and making his own stage adaptation of The Vampyre in 1851.
Indeed this is the history of the vampire genre. Not only Ruthven, through (primarily) the 19th Century, but also Carmilla and the adaptation of J Sheridan Le Fanu's 1872 story and even more so Bram Stoker's Dracula (1897). Dracula is deemed as the most filmed fictional characters ever according to Guinness World Records (Guinness World Record News 2012).
Dracula has become so popular, of course, that the Count Orlock version has spawned a visual sub-set of the vampire in the form of the Nosferatu based on Max Shreck's image in Nosferatu, eine Symphonie des Grauens (1922) and Dracula as a word has started to morph into a collective noun for vampires rather than a name of an individual character.
The vampire genre is one of adaptation and evolution – which is why it remains popular. In fact it sometimes, arguably, spawns new genres. If the zombie genre was defined by Night of the Living Dead (1968) (despite the Z-word never being used) then it owes a part of its existence to vampires due to the influence of Richard Matheson's I am Legend (1954).
When one is faced with a remake of anything with vampires at its heart the correct reaction, to me, should be one of gentle optimism. If the vehicle is successful, from a genre sense, then we have another great piece of literature, TV or film added to the oeuvre. If it is rubbish… well believe me the vampire genre has more than its fair share of rubbish.
Yet even then there may be something within any given vehicle that remains worthwhile. However to rail against another remake (especially of something that has only been made twice and both versions have been incomplete adaptations) is to misunderstand the vampire genre altogether.
[su_spoiler title="References"]Boylan, Andy. 2007. "Let the Right One In – Review." Taliesin Meets the Vampires (blog), Sept. 21. Accessed March 23, 2015. http://taliesinttlg.blogspot.co.uk/2007/09/let-right-one-in-review.html.
Goldberg, Lesley. 2015. "A&E Remaking Swedish Vampire Drama 'Let the Right One In' (Exclusive)." The Hollywood Reporter, March 17. Accessed March 23, 2015. http://www.hollywoodreporter.com/live-feed/let-right-one-remake-a-782087.
Guinness World Record News. 2012. "Sherlock Holmes Awarded Title for Most Portrayed Literary Human Character in Film & TV." Guinness World Records, May 14. Accessed March 23, 2015. http://www.guinnessworldrecords.com/news/2012/5/sherlock-holmes-awarded-title-for-most-portrayed-literary-human-character-in-film-tv-41743.
RobG. 2009. "UPDATED: Let the Wrong Subtitles in to LET THE RIGHT ONE IN?!" Icons of Fright, March 30. Accessed March 24, 2015. http://iconsoffright.com/news/2009/03/let_the_wrong_subtitles_in_to.html.[/su_spoiler]
Read Andy's review of the Swedish adaptation, American remake and John Ajvide Lindqvist's short story collection, Let the Old Dreams Die (2011). How much does Andy love the American remake? He placed it third in his top 100 vampire movies.

Andy's also written his own vampire novel, Concilium Sanguinarius (2008), and a genre study called The Media Vampire: A Study of Vampires in Fictional Media (2012).