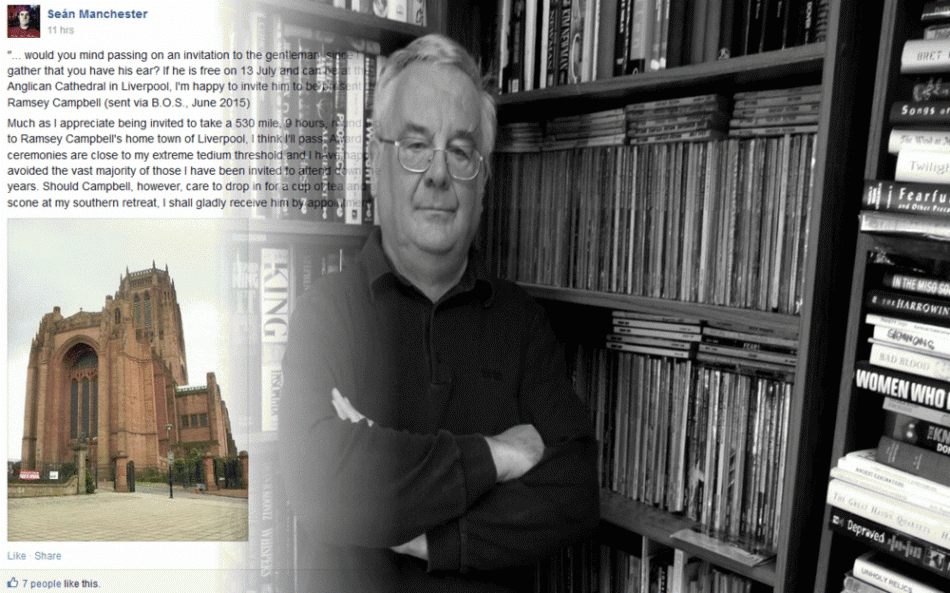 An unsuccessful novelist who masquerades as a vampire hunter "flipped the script" on a famed horror writer by rejecting the writer's invitation to an Honorary Fellowship ceremony, then making his own counter-offer.
Sean Manchester, 70, writing as "B .O.S.," a sockpuppet identity Manchester uses to harass and malign critics, initiated an attack on Ramsey Campbell, 69, on June 10, 2015 via the comments thread of an interview I had conducted for Nadine Martiz's blog, My Addiction, dismissing Campbell's oeuvre as "pulp fiction," despite Campbell's horror fiction has received the Bram Stoker Award, British Fantasy Award and World Fantasy Award, among others.
Conversely, Manchester's only novel, Carmel: A Vampire Tale (2000), has a one star rating on Amazon.com and was described by its only reviewer, Julien Bourgault, as "a poor work, a mumbo jumbo of diverse ingredients mixed together in a clumsy manner."
Manchester made the dismissive comment against Campbell after Campbell posted a comment on the thread on June 9, noting Manchester had engaged in copyright right theft by publishing an uncredited still from an incomplete Dick Smith film in Manchester's 1985 book, The Highgate Vampire: The Infernal World of the Undead Unearthed at London's Famous Highgate Cemetery and Environs.
After further ad hominem comments from Manchester, Campbell extended an offer on June 12, after Manchester suggested, in third person, that Campbell was "threatened by the very existence of Seán Manchester and his published works":
+B .O.S. [sic; Sean Manchester] Threatened? Quite the opposite. In fact, let me show that I bear no grudge even if I ever had a reason for one. Mr BOS, would you mind passing on an invitation to the gentleman, since I gather that you have his ear? If he is free on 13 July and can be at the Anglican Cathedral in Liverpool, I'm happy to invite him to be present when Liverpool John Moores University gives me an Honorary Fellowship. The University says it is for outstanding services to literature.
Manchester ignored Campbell's offer until it was highlighted in my article, "Vampire Hunter Dodges Horror Heavyweight's Meet Offer" (June 15, 2015). That same day, Manchester responded through his Facebook group, "† Seán Manchester † Vampirologist †," after pretending that Campbell's offer had been sent to him via "B.O.S." (Manchester's sockpuppet account):
"… would you mind passing on an invitation to the gentleman, since I gather that you have his ear? If he is free on 13 July and can be at the Anglican Cathedral in Liverpool, I'm happy to invite him to be present …" – Ramsey Campbell (sent via B.O.S., June 2015)

Much as I appreciate being invited to take a 530 mile, 9 hours, round trip to Ramsey Campbell's home town of Liverpool, I think I'll pass. Award ceremonies are close to my extreme tedium threshold and I have happily avoided the vast majority of those I have been invited to attend down the years. Should Campbell, however, care to drop in for a cup of tea and a scone at my southern retreat, I shall gladly receive him by appointment.
Manchester's "tea and a scone" counter-offer drew further commentary from two other members of Manchester's Facebook group on June 15—one of whom, "Christian England," may actually be Manchester himself as covered in "Vampire Hunter Dodges Horror Heavyweight's Meet Offer" (June 15, 2015).
Mr. England wrote:
Ramsey Campbell might be Facebook friends with Anthony Hogg, but I am surprised just how much he has allowed himself to be manipulated and used by this Aboriginal super-troll. It casts something of an otherwise avoidable shadow on Campbell receiving an honorary fellowship at the cathedral for services to horror fiction writing by some Liverpudlian college or the other. Doesn't "honorary" mean you don't actually do anything to merit the award beyond what you always do in your normal day to day job? https://www.facebook.com/ramsey.campbell.75
I am not Aboriginal, nor a "super-troll." Nonetheless, Manchester "liked" the comment—indeed, Manchester "liked" all comments on the subsequent Facebook thread. England's comment was followed by fellow member Stephen Day Freestone:
Honorary also means that you can't actually use the award, hence why I gasp at people calling themselves Doctors when it's been awarded as an honorific and not academically won (me, BA (Hons) Brunel 1996).
Adding:
I believe Sara Payne, the mother of a murdered schoolgirl, uses her honorific when she shouldn't. But how can you tell a mother of a murdered child not to?
Manchester replied:
Honorary titles in academia may be conferred on persons in recognition of contributions by a non-employee or by an employee. This practice primarily exists in the UK and some universities and colleges in the United States, Australia and Canada. Honorary title sometimes permit non-employees to enjoy the privileges available to regular staff members, such as access to facilities and libraries, parking permit. But that's about it. The dictionary definition of such a title is something "given to someone without their needing to have the necessary qualifications, usually, but not necessarily, because of an achievement."

I might be made, for example, an Honorary Cherokee and enjoy certain small privileges because of it. It would be churlish not to accept such an honour, but in accepting it would not, of course, make me a real Cherokee Indian. That notwithstanding, I wish to take nothing away from Ramsey Campbell and hope he thoroughly enjoys his day becoming an Honorary Fellow.
Manchester's attitude toward honorifics is revelatory considering his own honours listed in the International Who's Who of Authors and Writers 2004 (London: Europa Publications, 2003): "Companion of the Order of the Sangreal; Knight Commander, Order of St. George" (366).
The "Order of the Sangreal," also known as the Order of the Holy Grail or Ordo Sancti Graal was founded by Manchester in 1973 [archive.is]—meaning the "honour" was self-appointed.
Manchester's former friend, Kevin Chesham, also makes some interesting observations in an extract [archive.is] from Chesham's as-yet-unpublished autobiography concerning another honorific Manchester employs—the "bishop of an obscure offshoot of the Old Catholic Church, which as I understand it is itself only a distant cousin of the authentic Catholic Church based in Rome." Chesham elaborates:
In fact, Sean's church only seemed to consist of himself, his wife, and no more than three or four friends (including myself, apparently, who he began referring to inexplicably as Br Kevin). There were no priests, no congregation, there was no church building, and I certainly have never heard Sean refer to having more than one property, having since learned that his only home is supposedly some form of retreat for survivors of Satanic abuse. It is just a suburban house like any other, although I must admit he does have a lot of statues. Again, as in the past, I put this down to eccentricity, and humoured the whole situation so as not to cause any direct offence.
If you're interested in reading about Sean Manchester's most famous case, read how Erin Chapman tracked down the Highgate Vampire by mapping its whereabouts in London's Highgate Cemetery.