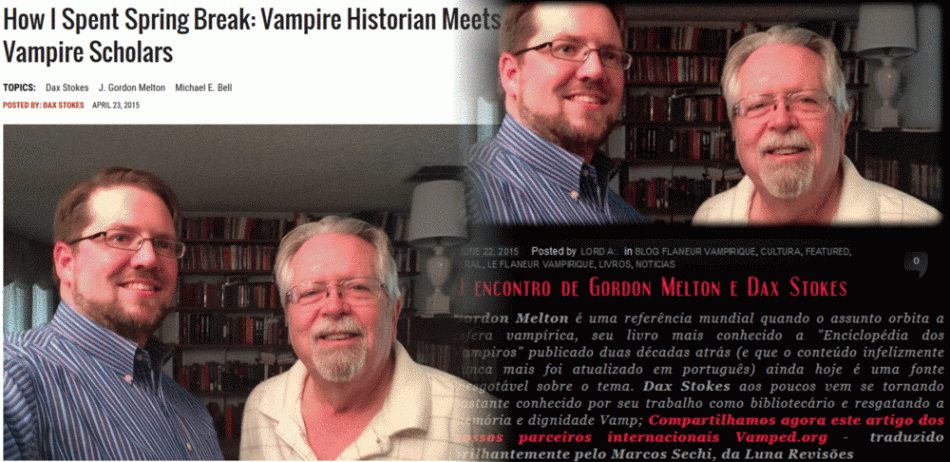 We've been greatly honoured by having one of our articles translated into Portuguese for a Brazilian vampire website—with permission, of course.
Marcos Sechi of Luna Revisões converted Dax Stokes' article "How I Spent Spring Break: Vampire Historian Meets Vampire Scholars" (April 23, 2015) into "O encontro de Gordon Melton e Dax Stokes" (June 22, 2015), posted by Lord A on Brazilian vampire website Rede Vamp (Vamp Network).
However, the transition didn't go off without a hitch. There was some confusion over who met the vampire scholars in question. In the original article, Stokes documented his meeting with vampire scholars J. Gordon Melton and Michael E. Bell. But the translated article was formerly titled: "O encontro de Gordon Melton e Dacre Stocker" (right).
Before the article title change took place, Dax Stokes was moved to comment the following on the Vamped Facebook page thread earlier today: "Except the little problem that they seem to think that I am Dacre Stoker. Our names are very close, and who knows, our families were probably linked about 400 years ago, but we are different people."
Dacre Stoker replied: "I saw that Dax, glad you were able to decipher the translation and figure out that they were saying such nice things about you. I guess this means we need to hurry up and meet someday soon!"
Despite similar names, Dacre Stoker and Dax Stokes are indeed entirely different people. Dacre Stoker is the great grand nephew of Bram Stoker, author of Dracula (1897). Dacre is best-known for writing a sequel to Dracula with Ian Holt called Dracula the Un-dead (2009).
Dax Stokes, however, is the Librarian at North Central Texas College, blogs as The Vampire Historian, and recently organised a gathering of vampire scholars documented in his article "Vampire Studies Symposium to Be Held in Texas on Halloween" (June 10, 2015).
Either way, we're greatly honoured by the translation. So, olá and obrigado to our Brazilian readers and remember: o sangue é a vida!