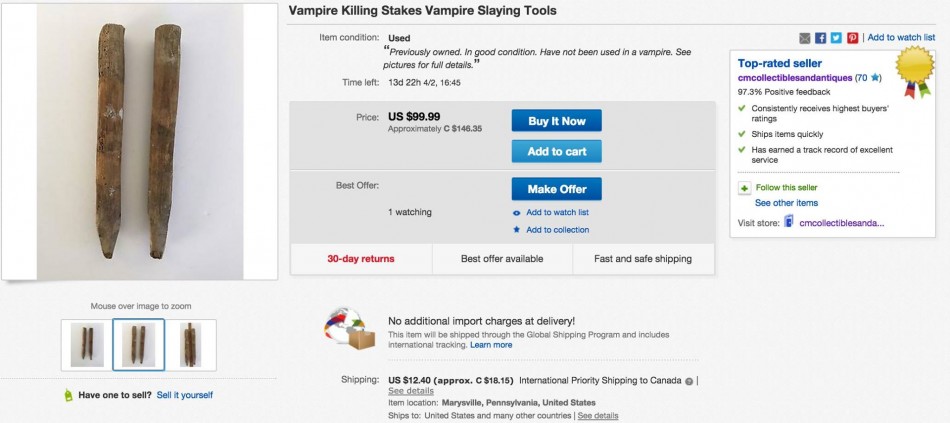 On Jan. 6, 2016 I came across someone selling vampire killing stakes on eBay. For only US$99.99, you can buy your own set. The seller claims the items were "Carved in the middle 1800s by a farmer in Southern Pennsylvania to be prepared for a possible Vampire attack. Very rare!!"
The ad continues: "Previously owned. In good condition. Have not been used in a vampire. See pictures for full details." However, the items' condition is listed as "used."
Were these stakes really intended to be used against vampires, or has the seller created an imaginary backstory to justify an exorbitant price for two pieces of sharpened wood?
To find out I needed to contact the seller, but because I didn't have an eBay account or experience using eBay, I asked Anthony for assistance.
I was having challenges so he helped me create an account and logged in to email the seller for me on Jan. 7, 2016:
Good afternoon,

I am a writer for a vampire website and I have a query about the "Vampire Killing Stakes Vampire Slaying Tools" you have for sale.

Your listing mentions they were "Carved in the middle 1800s by a farmer in Southern Pennsylvania to be prepared for a possible Vampire attack." What evidence do you have for this claim?
I received a reply on Jan. 8, 2016:
Hi
The great grandson and grandson of the Romanian farmer who carved them were at the auction, there were also silver bullets but they went for more money than I wanted to spend.
I responded on Jan. 9, 2016 with some more specific questions:
Oh that is interesting. I wanted to know a bit more information about what you said.

1) Can you tell me when and where the auction was held? Also the name of the auction company?
2) How much did you pay for the item?
3) Can you supply me with the names of the great grandson and grandson that were present at the auction? Do you also know the name of the Roman [sic] farmer?
4) Have you purchased anything else from them before? Were they the ones selling the silver bullets too?

Thank you and look forward to hearing back from you.
I received a reply the same day:
Hi
1. September in Juaniata county PA dont remember much.
2. I bought a box of them and paid enough for them.
3. No I cant. I attend 100+ auctions a year.
It seemed the only lead was the auction house. I responded on Jan. 9, 2016:
Do you recall the name of the auction house in Juaniata County?
Thanks!
I received a reply the same day:
Hi

It was a farm auction. I dont remember which company it was.
I responded on Jan. 10, 2016 with my final email:
Do you think that selling two (?) sharpened pieces of wood with virtually no way to verify their purpose or age is worth (selling price)?
He responded the same day:
I guess it depends on the buyer, I get an odd feeling when holding them. But then you have to ask yourself who actually believes there are vampires? Is someone believes in vampires it might be reasonable these are killing stakes for such.

There's odder things for sale on ebay….
On Jan. 18, 2016, I sent a Facebook message to an American vampire folklore expert: Michael Bell, author of Food for the Dead: On the Trail of New England's Vampires (2001). I wanted to see what he thought about Clint's story. That same day, Bell replied:
Well, it seems to be a hoax, obviously. Proving that would not be easy, I assume. If they are "used" but were never employed to kill an actual vampire – well, how can that be? Maybe someone just used them to hold up a tent? Anthony [Hogg] interviewed, as I recall, a man who makes and sells vampire-slaying kits – but he markets them as new items that should be viewed as artistic creations and novelties – not as authentic and antique. Maybe you should contact the kit maker and ask his opinion. (I'm sure she would be a bit bent about this guy trying to pass off something like this.) Also, I realize there were immigrants to Pennsylvania in the mid-nineteenth century to work in the mines, etc. Some were from Eastern Europe. I have a story of two Hungarian miners in PA being arrested for exhuming the body of their coal-mining boss, intending to cut out his heart and burn it. As far as staking goes, it just does not appear in this country (except in legal terms: the penalty for dying in a duel or suicide, in the early years).
Are these stakes authentic? Without being able to verify Clint's backstory, we have a dead end. But Michael's commentary seems fairly conclusive. The jury's till out, though not holding its breath.
If you're interested in purchasing these supposedly "Very rare!!" items, there are 13 days and 20 hours left on the listing as this article went to press.
Notes:
someone selling vampire killing stakes: cmcollectiblesandantiques, "Vampire Killing Stakes Vampire Slaying Tools," eBay, 2016, http://www.ebay.ca/itm/Vampire-Killing-Stakes-Vampire-Slaying-Tools-/321968007093?hash=item4af6c9e7b5%3Ag%3ATVYAAOSwAYtWIQBi. archive.is link: https://archive.is/titVT
"Carved in the middle 1800s": Ibid.
"Previously owned. In good condition": Ibid.
Further Reading:
Anthony Hogg, "Interview with Phineas J Legheart, Vampire Killing Kit Maker," Vamped, May 24, 2015, http://vamped.org/2015/05/24/interview-with-phineas-j-legheart-vampire-killing-kit-maker/. The interview Michael Bell alluded to in his response.
"With a Stake in the Heart: Suicides or 'Self-Murder' and a Peculiar Custom," Hidden Histories (blog), Historical Society of Pennsylvania, Dec. 3, 2009, https://www.hsp.org/blogs/hidden-histories/with-a-stake-in-the-heart-suicides-or-self-murder-and-a-peculiar-custom. An article which goes into greater detail about Bell's allusion to "the penalty for dying in a duel or suicide"—their corpse staked to the ground.