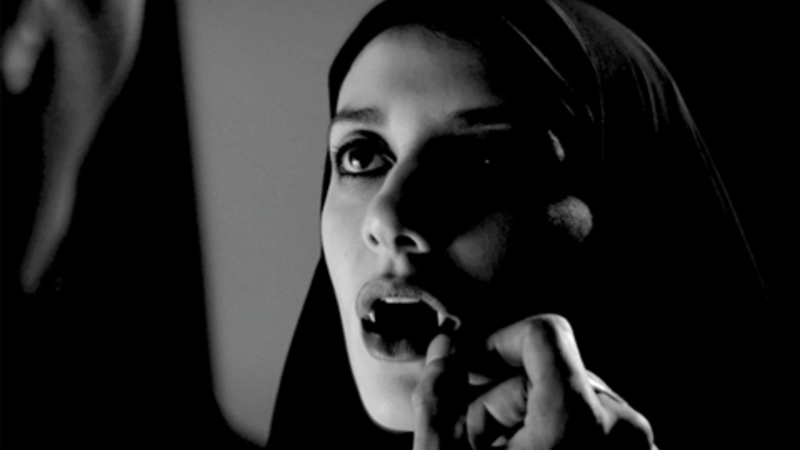 What would the average viewer expect from a black and white vampire movie over the years? Director Ana Lily Amirpour's A Girl Walks Home Alone at Night (2014) is far from your action packed, gloriously technicoloured Dracula Untold (2014) and a league away from Bela Lugosi's depiction of Dracula (1931). It follows a trend of undertones from Tom Hiddleston's vampire attributes and modern popularisation by Jonathan Rhys Meyers (it's slow in places but the lead is gorgeous). Merge this pair together on a cloudy day and you have yourself over an hour towards a bloodthirsty matinee.
Let me take you back to art class. Imagine scatty sketches beside your lyrics as you embark upon a new journey. You are wondering what sort of student created this shocking playlist that's pounding your lobes and can't wait for your chance to begin the day correctly by whacking the soundtrack to A Girl Walks Home Alone at Night on Spotify. The clock's ticking slowly even though your music is now playing, your final piece looks just like another damp watercolour and the best compliment your mentor offers is toward your choice of album (although it does sound better on vinyl).
However, such a film is not to be mistaken for a sketchbook; it has been constructively arranged in order to achieve maximum impression. It successfully triggers the imagination, heightens the senses and you can almost smell the incense burning as you focus your attention on every mise en scène. The Girl (Sheila Vand) allows you to settle in during the opener but self-encourages nail biting ten minutes in before helplessly taking you down stream for the entire 101 heartfelt, blood flowing minutes.
First, the Persian language and Western music not only raises an eyebrow but also prepares us for an interesting ride full of addiction. The power plant backdrop is reminiscent of Romanian suburbs as we journey into a world of drug dealers and prostitutes. Set in the Iranian pocket that is "Bad City" we find Arash (Arash Marandi) stealing jewellery to feed his father's drug habit. Then, the dealer responsible for the supply enters the frame—it is in this moment of parking-lot romance where we first set our eyes on the unnamed vampire, who is dutifully watching.
Not long after, we see the first kill. The innocence of her chador (full-body-length veil) provides a seductive element to her killing. I will go so far as to say that she wants to irritate her victims before pouncing on them. Although, she does show a rare glimpse of empathy within a genre that has had its wattage turned down.
During what is arguably the best scene in what is fast becoming an elegant romance, The Girl reveals her growling voice for the first time in order to teach a small boy a life lesson: "Be a good boy," she says. At this point it is unclear as to whether we are mistaking her kindness for prudence, she could merely be waiting for the right moment to kill another.
Okay, killing is seldom in this one but this is made up for with more poetic scenes and soon we realise all the chosen casualties are reprimanded for their poor life choices. Oh, and did I mention the skateboarding?
After a Halloween themed party—more like a Requiem—more of the director's wry humour can be seen when the our Girl meets Dracula (actually Arash in costume). The cold touch of her hand is just one of the historical attributes woven into the plot but I find the most comical of them all is the way that The Girl ironically invites the Count back to her place. How kind of her to play by the rules. It is at this point my eyes become glued to the screen, fixed on her supple movements and the way the story slowly wends its way forward into her room, dressed adolescently with posters of music icons.
An interesting moment is the giving of earrings, obtained in the first of Arash's footpad moments. Sheila's ears are not yet pierced in the film (perhaps to avoid silver jewellery) so when her companion offers to pierce them I half expected her to burst into flames. Similarly, if she was enamoured by the gesture she didn't show it as she proceeded to walk away, leaving him to face rejection for the second time in the movie.
With less interrogation and a little more bloodshed, film noir meets Gothic next when the vampire kills Arash's father—it is as if she knows it is him who is keeping Arash in Bad City. So, when the moment arises and the young man wishes for her to escape with him, The Girl already had the family cat close at hand. The revealing feline from behind a dressing table confirms the identity of his father's murderer, but this doesn't seem to faze the boy as they ride out into the night. Who said black and white films were passé?
If you would like to get mellow this stylishly antique, soft and truly idyllic collection of scenes is for you.