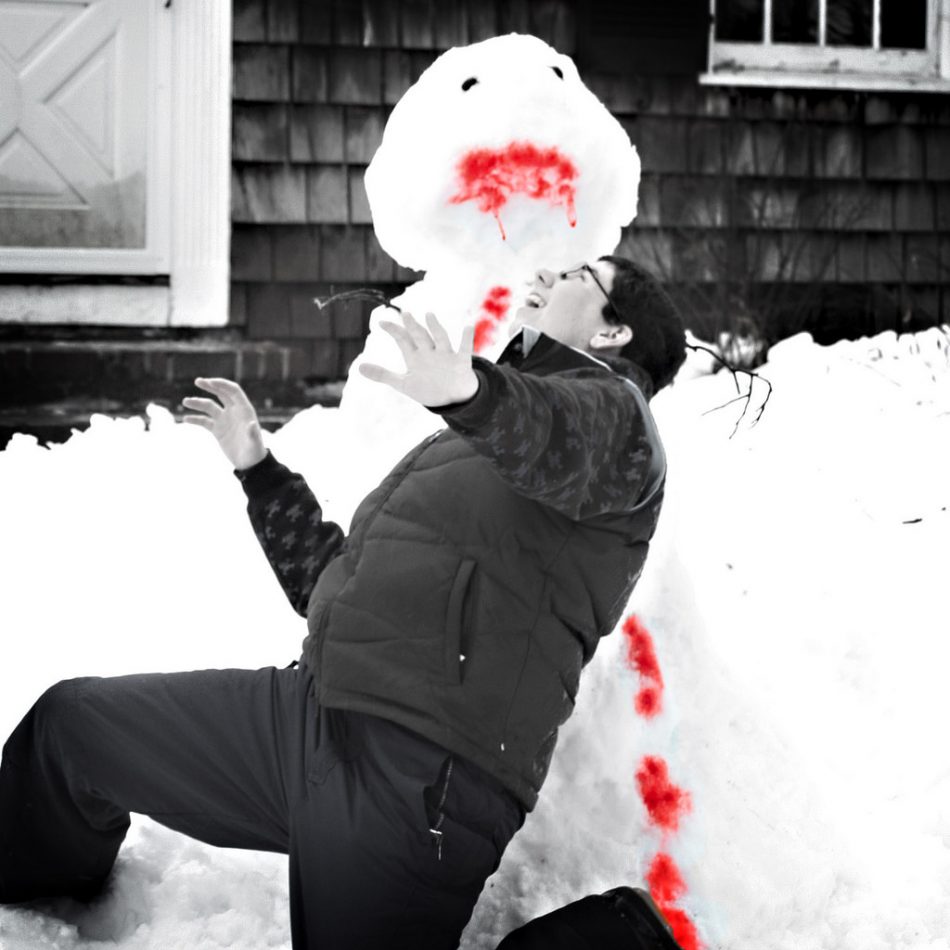 Vamped readers, it's that time of year again! Christmas trees are decorated, lights are hanging in all the neighbourhoods, malls are filled with panicked shoppers, and for the first time in many years, Vancouver has been bombarded with multiple snow falls already. I'm freezing my ass off over here with temperatures dropping down to minus eight celsius, while Anthony is baking in thirty plus degrees Down Under.
In the spirit of holiday season, I wanted to share some Christmas vampire cheer. Let's see what is in Santa's sack.
#5. Christmas Cheer—Vamped Style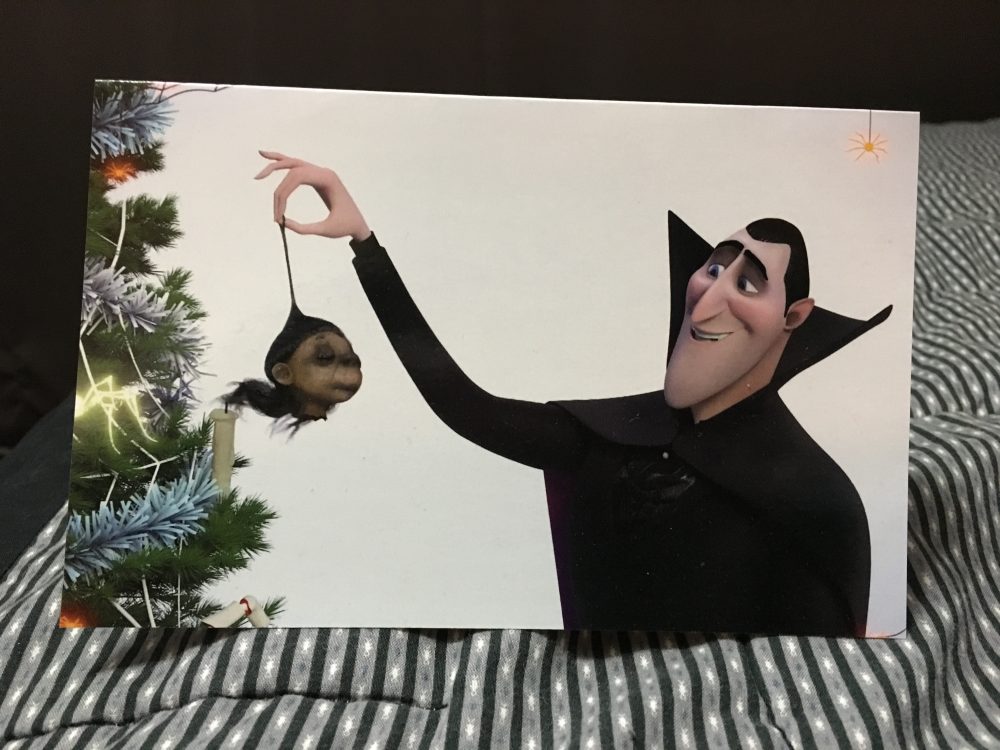 Vamped continued a tradition we started last year where we made Christmas cards for a select group of people that we worked with over the year. Like Santa, we made a naughty and nice list.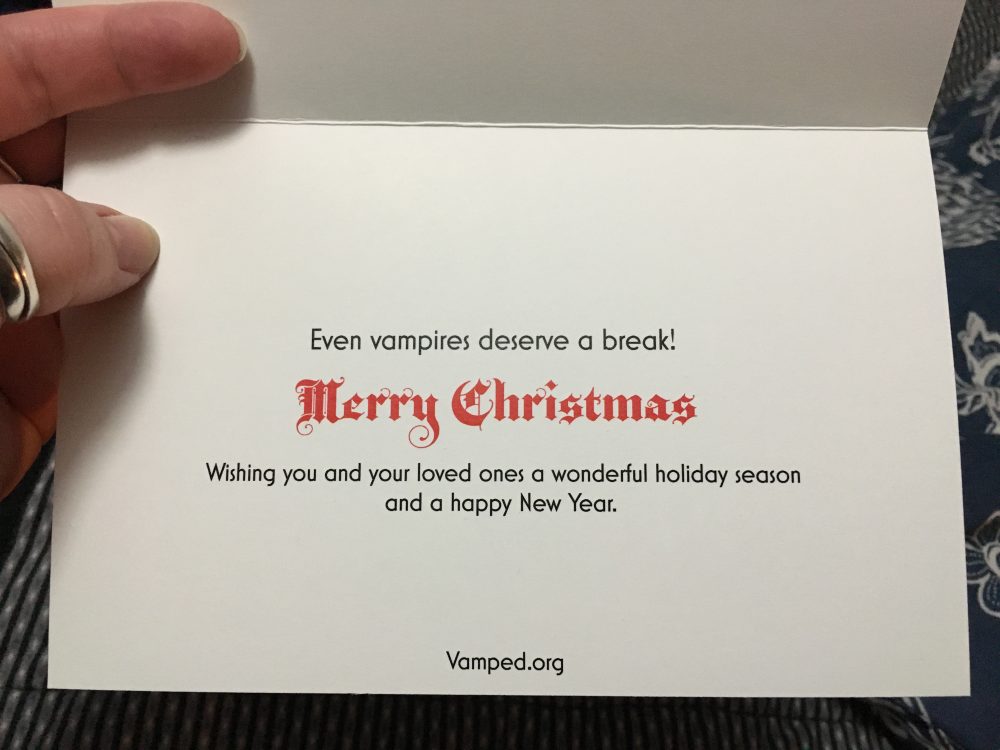 Only twenty cards were printed and mailed to countries around the world including the United States, Australia, Germany, Denmark, England, France, and Ireland.
#4. Vampire Snowball Martini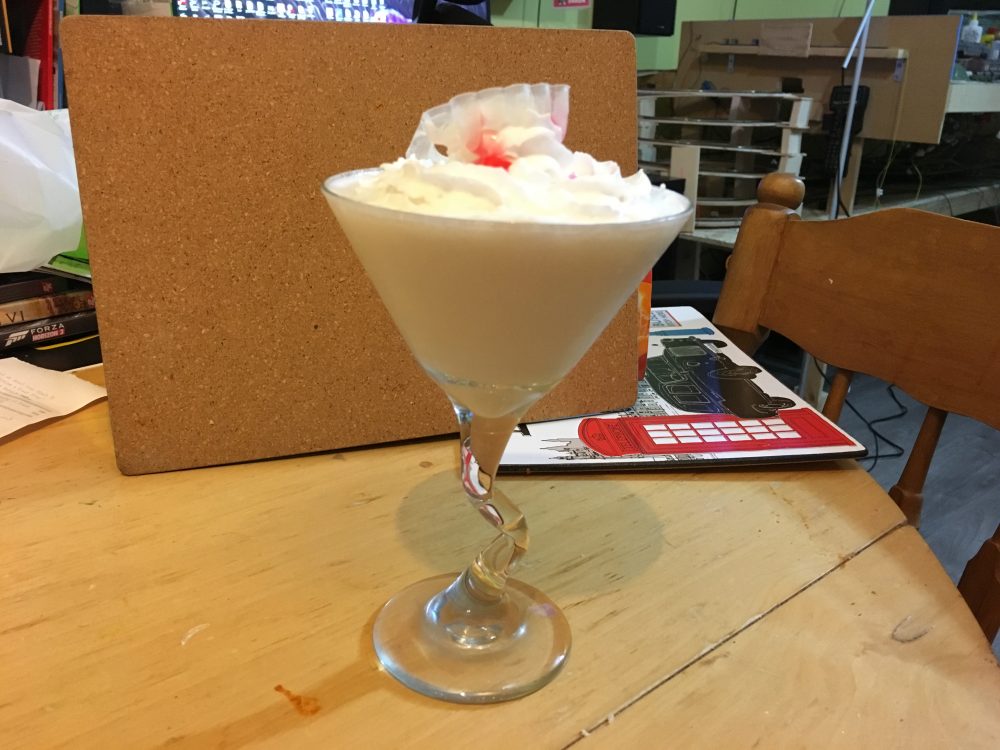 Having about five inches of snow fall today, I felt a little inspired to make a vampire drink this year with a Canadian winter flare to it.
As some of our readers know, I have a dairy allergy and hence the reason I used coconut milk. You can easily alter this recipe and substitute the coconut milk and whipping cream for its dairy alternatives. Either version is just as tasty.
Ingredients:
6 oz. of coconut milk
1 oz. of chocolate vodka
3 large ice cubes
1 canister of coconut whipped cream
1 set of plastic fangs
1 tsp. of strawberry syrup
Directions:
Combine coconut milk, chocolate vodka, and ice in blender.
Pour into glass of your choice. Top with whip cream.
Add plastic fangs and dollops of strawberry syrup to look like fang marks.
#3. Vampire Snowman Cookies
I did some gluten free baking and decided to give it a vampire flare. The recipe I used can be found on the Daiya website.
It was pretty easy to make this cute little guys. I actually opted for vampire snowmen instead of vampire gingerbread men because I couldn't find my cookie cutter. To make it easy I used the store bought tube of white cookie icing you can find in any baking section. For the blood I used a gel icing as I figured it would make for better blood, and it did.
For the application, I made did the eyes, nose and mouth first and waited five minutes for it to set. I then applied the fangs and waited again another five minutes. I discovered if you didn't wait, the fangs blended into the mouth. Unfortunately I had to eat my first couple as they weren't as pretty as I hoped. Lastly, I dribbled the red gel down from the fangs (you can't stack the cookies if you use the gel icing as it doesn't set like the white cookie frosting).
I was a little skeptical at first as I have never made cookies with cream cheese as the binder, let alone fake cream cheese. Anyone that eats dairy free and gluten free knows that taste is usually a sacrifice. I was pleasantly surprised when I tasted these little snowmen bad-boys.
Notes:
#2. Christmas in Mystic Falls
I found this little video when I was browsing YouTube. Since I am currently binge watching the entire Vampire Diaries series I figured it was appropriate.
It shows off a festive dinner with the whole gang from Mystic Falls. The bonus is the appearance of Klaus in the video as Santa, and a topless one at that.
Notes:
"The Vampire Diaries | What Was Christmas in Mystic Falls?," YouTube video, 0:57, posted by BJ, Dec. 29, 2011, accessed Dec. 22, 2016, https://youtu.be/0ghh_XHxXZU.
#1. A Very Vampire Christmas Story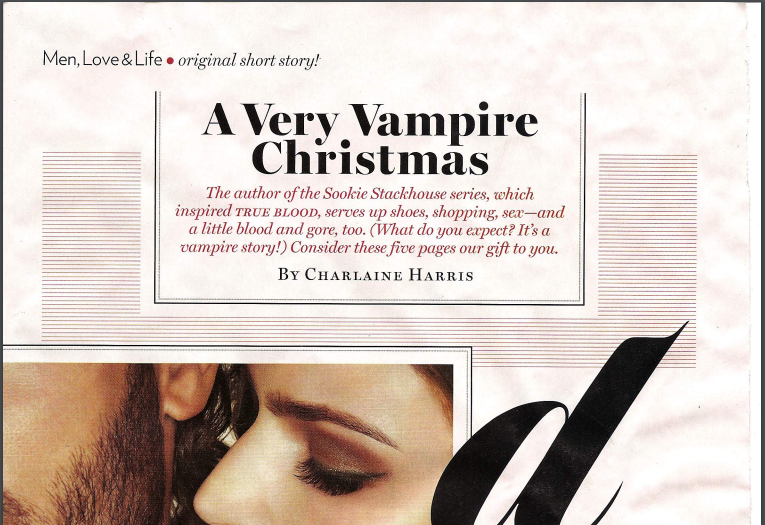 My final Christmas treat is quirky vampire short story that was originally published in Glamour magazine back in December 2010. It was written by Charlaine Harris, the wonderful lady that brought the world the Sookie Stackhouse series and True Blood.
There are definitely some True Blood elements in the story. The but she also tosses in vampire shopping trips, crazy elves that eat children and can smell vampires coming a mile away. Intrigued? I guess you will have to read it. Click on this link to check it out!
Notes: 
Click on this link: Charlaine Harris, "A Very Vampire Christmas," Glamour, December 2010, in "A Very Vampire Christmas Short Story," comparingtrueblood (blog), March 13, 2011, accessed December 22, 2016, https://comparingtrueblood.wordpress.com/2011/03/13/a-very-vampire-christmas/.
Anyway, time to scoot as I have some holiday festivities to attend to. I hope you try the vampire snow ball and curl up by a warm fire with someone you love this Christmas. On behalf of Vamped, Anthony and I would like to wish you a happy holiday and New Year!