Last week, Anthony and I discussed what we should do to celebrate Vamped's upcoming third birthday on January 20, 2017. We decided he would write an article, while I figured out a cake. At first I planned on making a cake, but due to a tight schedule, I opted to purchase one instead.
On January 15, I visited my local Save-On-Foods for a weekly shop. With an idea in my head of what I wanted for a cake, I headed to the bakery to hunt down something appropriate.
I ended up choosing a strawberry shortcake half-sheet for $16.99 CAD. I asked the woman working in the bakery if she could write on it. She said no problem.
She wrote an inscription on a large chocolate slab for on top. I explained I had a weird request, asking if they had any red gel icing that could mimic blood. She gave me a strange look and told me to hold on.
Originally, I was going to try my idea on the store-bought cake at home, but figured if they had the materials it would be easier and save me money. She returned a few minutes later with a large piping bag of strawberry jelly.
I wanted to add a border that made the cake look like it was bleeding. She attempted to pipe around the top of the cake and I interrupted, asking if I could do it. She gave me the bag and I laced the top borders of the cake with enough jelly to drip down the side. I added some extra bits to flare out the blood effect until I was happy with it.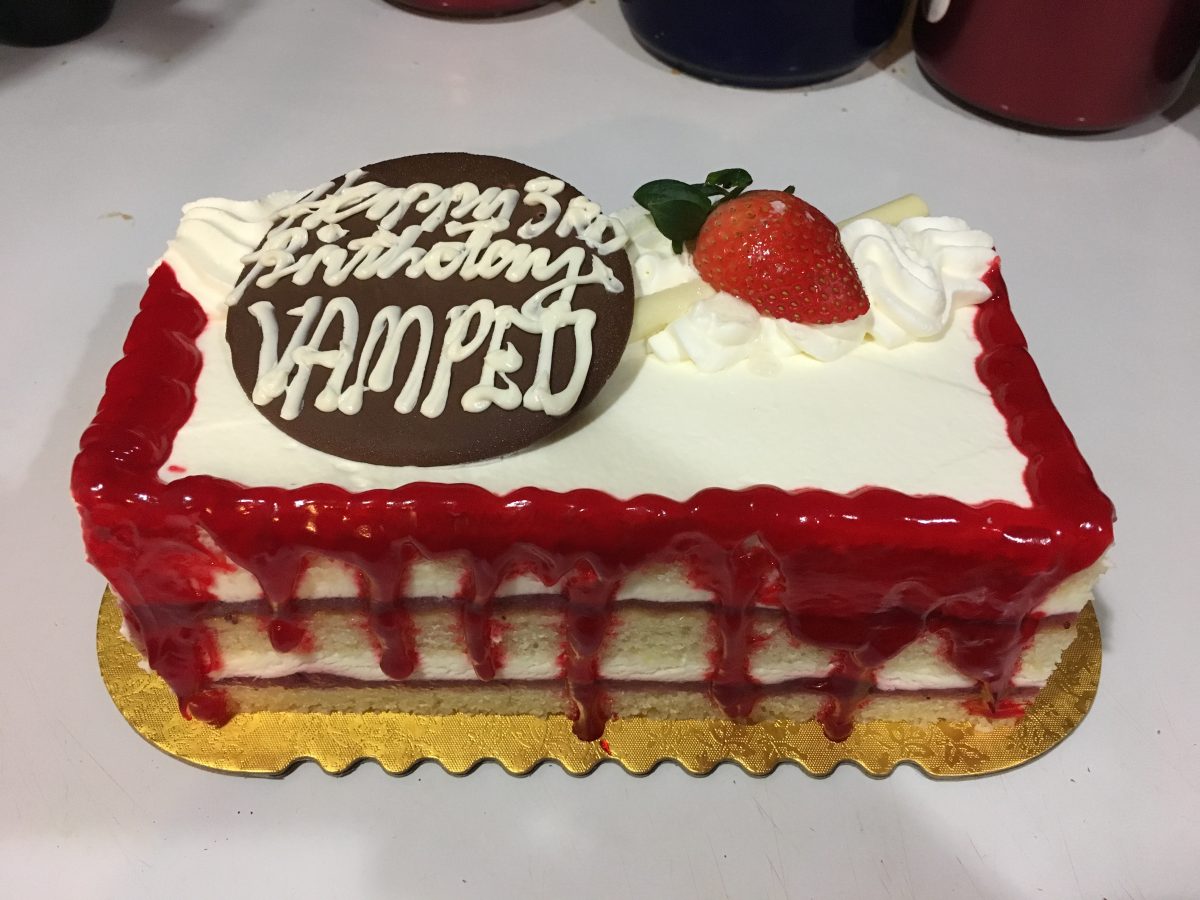 At the front till, the Asian lady that scanned our groceries saw the cake and asked me if it was someone's birthday. I said, "Yes, my website." She gave me a confused look and burst into laughter.
She put her face down on the counter and continued to laugh for a good twenty seconds. When she stood upright she was still laughing and said, "That's not a person." I responded by explaining that it's not a person, but still has it's own birthday. I think the language barrier was what made the idea funny to her and as she scanned the rest of the groceries she kept giggling to herself until we left.
Once I got the cake home, I tried to figure out what I could place on top to vamp it up a little. I remembered a box of vampire chocolates that I purchased at Hotel Chocolat.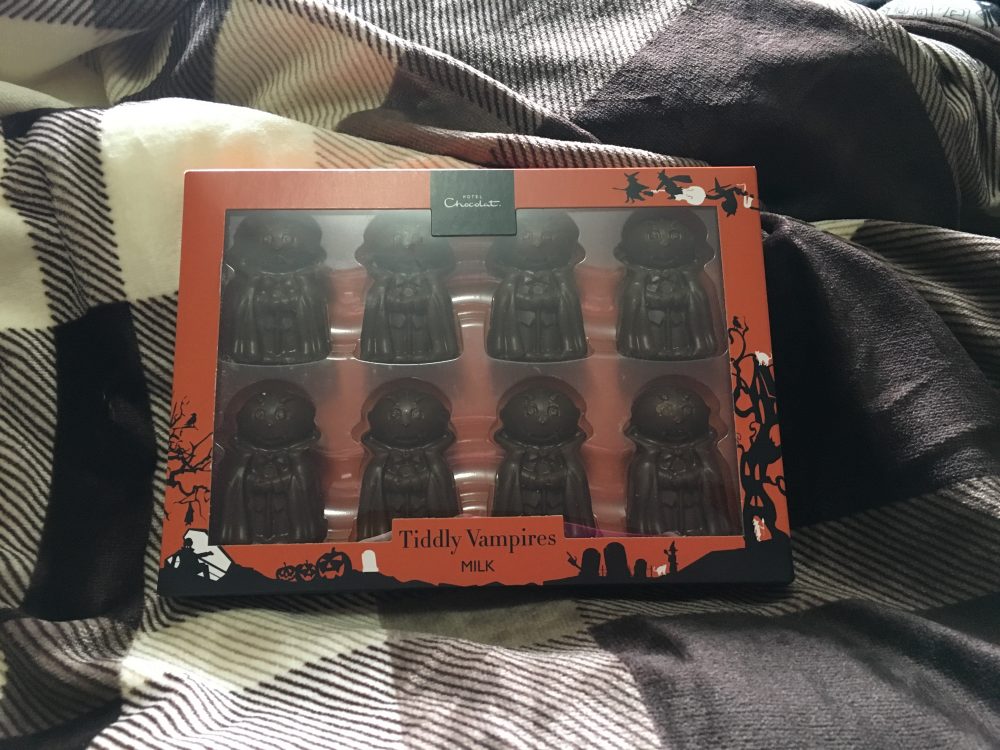 I debated how many little guys could fit on the cake and settled on two because Vamped is pretty much a two-person operation with Anthony and myself. They fit perfectly and I was happy with the end product.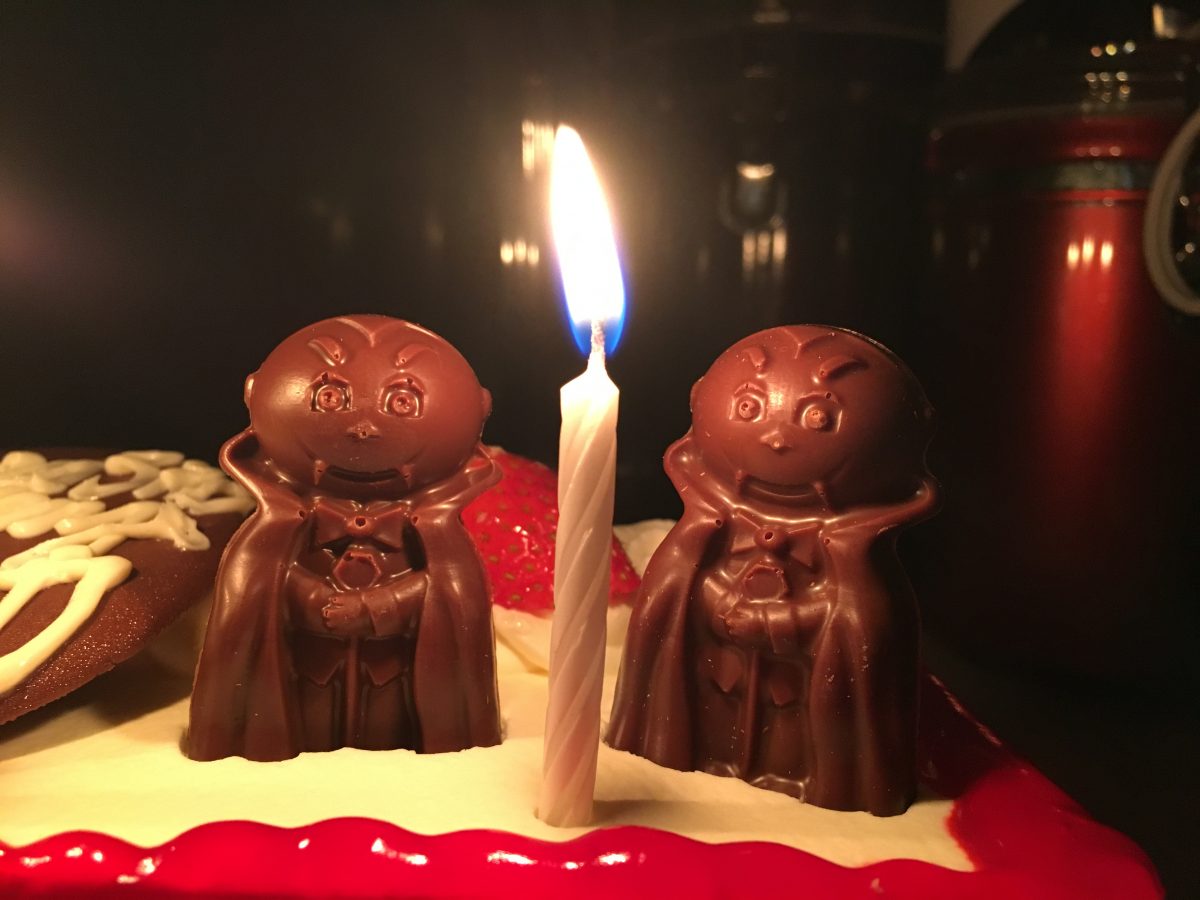 The cake was delicious and my only regret was Anthony couldn't partake in the enjoyment. That's what he gets for living on the other side of the globe!
Notes

he would write an article: Anthony Hogg, "Happy 3rd Birthday, Vamped! A Few Highlights from Our History," Vamped, Jan. 20, 2017, accessed Jan. 20, 2017, http://vamped.org/2017/01/20/happy-3rd-birthday-vamped-highlights-history/.