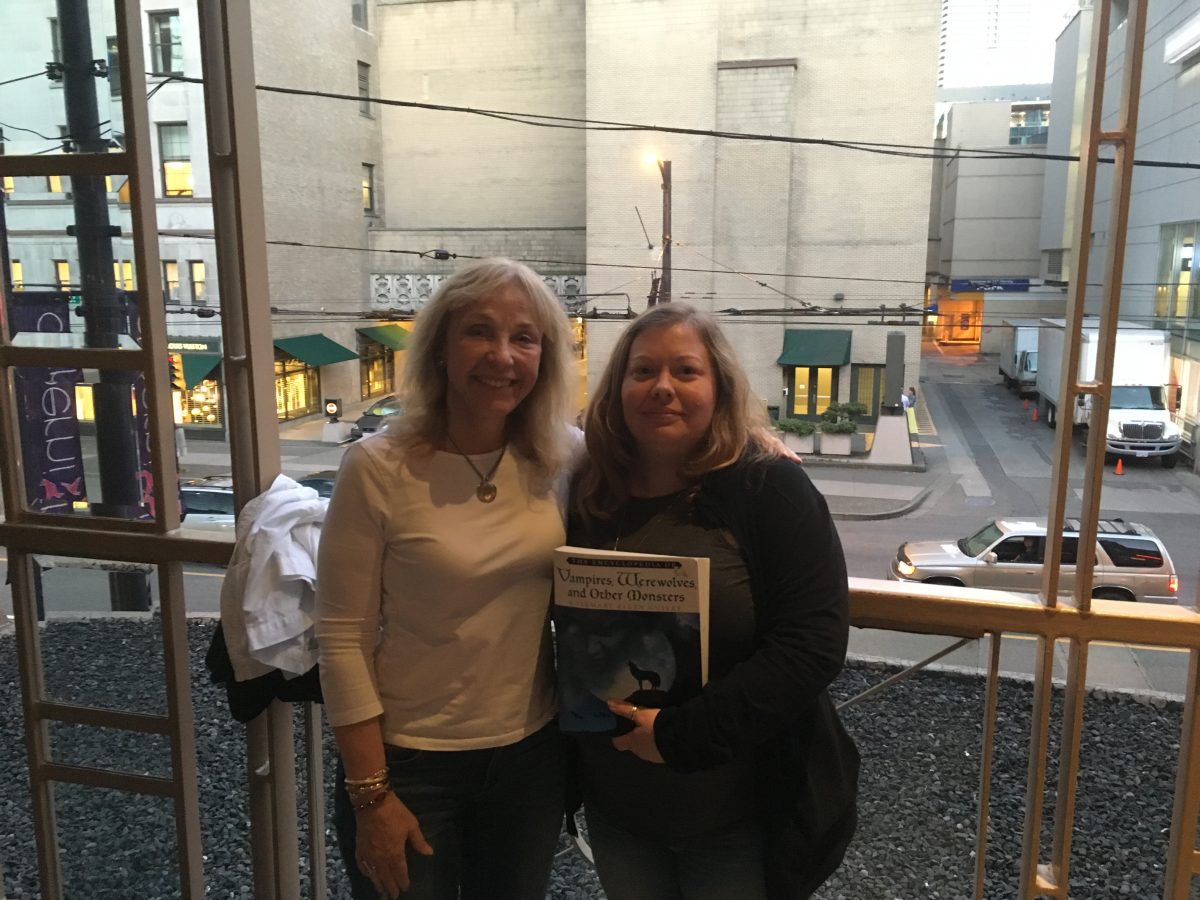 On August 10, 2016 my other half and I ventured downtown to Shabusen Yakiniku House to meet supernatural and paranormal expert, Rosemary Ellen Guiley, for dinner.
I originally connected with Rosemary through one of my Facebook groups The Art of Dying. We got to chatting and I realized she was the author of a book I picked the year before, The Encyclopedia of Vampires, Werewolves and Other Monsters (2005), while browsing a used bookstore in Texas with two vampirologists: Anthony Hogg, Vamped's editor-in-chief, and J. Gordon Melton.
Rosemary messaged me to say she would be in Vancouver for a few days and we arranged to meet for dinner. We decided on sushi because we both have diet restrictions involving gluten. For me that makes Asian food an easy choice.
Normally I bring my gluten free soya sauce along, but this time I should have left it at home. I didn't want to bring the entire bottle and figured a small tupperware in my handbag would suffice. I realized minutes before arriving at the restaurant that it had leaked all over my faded jeans. Talk about an embarrassing first impression!
Armed with my copy of Rosemary's book, we parked the car and waited for a table and our guests.
Rosemary brought along her husband, Joseph, which was good as it gave my other half someone to talk to while Rosemary and I discussed vampires.
We talked about her publishing company, how she got into vampires, a vampire case, Vamped, and discovered we knew many of the same people in the small academic vampire social circle that exists.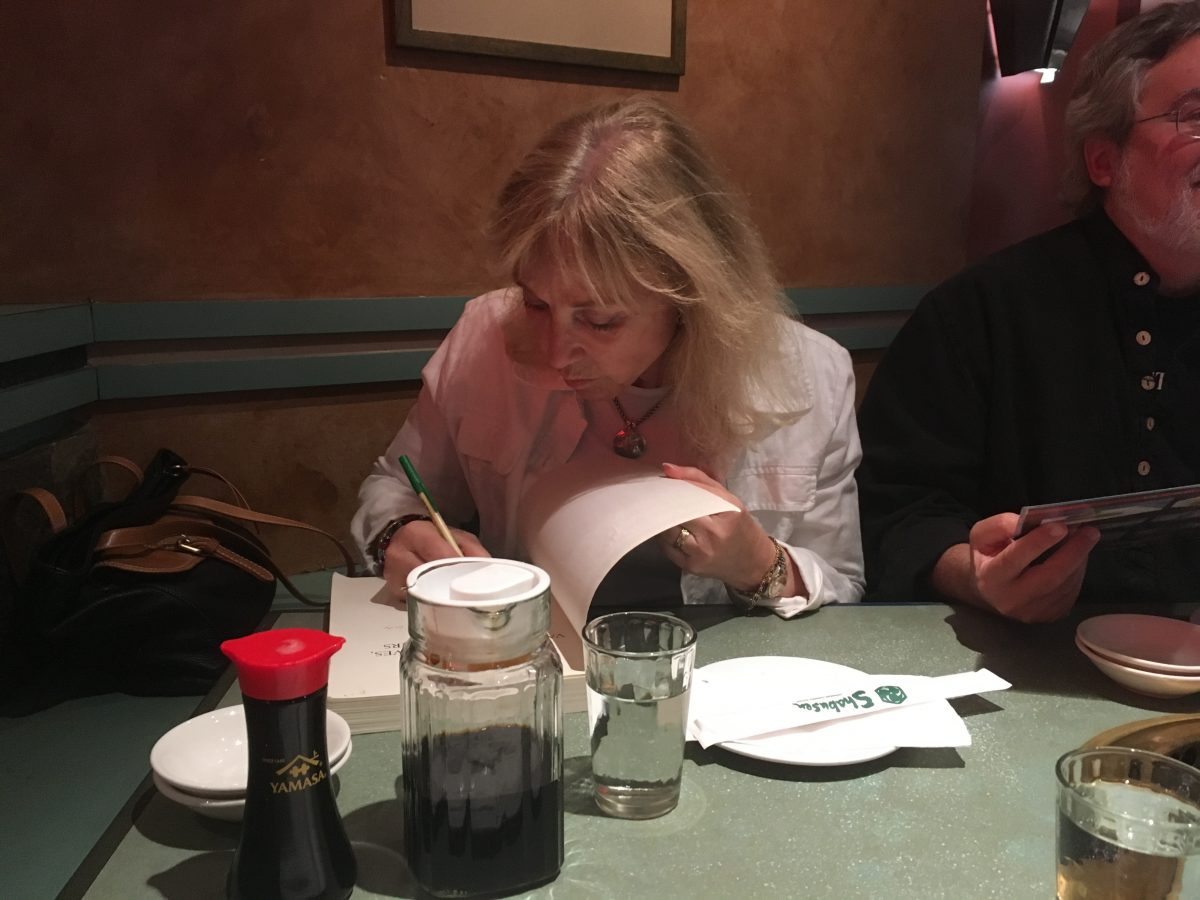 Rosemary signed my book for me. Originally before our meeting, I had tried to pick up a copy of her book, Vampires Among Us (1991), as I wanted to get her to autograph that one. Apparently Amazon has an issue shipping this one across the American border. I tried about six book dealers and the only ones that could get me the book, needed at least two months so I gave up.
She was kind enough to post me two autographed copies of the book when she returned home from her vacation slash tour. I sent the other copy to Anthony in his Christmas box in December. He already owned the book, but not an autographed copy.
After dinner we said our goodbyes and agreed to go for a meal the next time she was back in Vancouver. Over the past three years I have been fortunate to meet some major authors and academics in this field and I am always amazed at each encounter.
Rosemary was a very down to earth lovely woman and it was refreshing to meet a female influence in a mostly male-dominated vampire boys' club. She even agreed to do an interview for Vamped so stayed tuned for that one.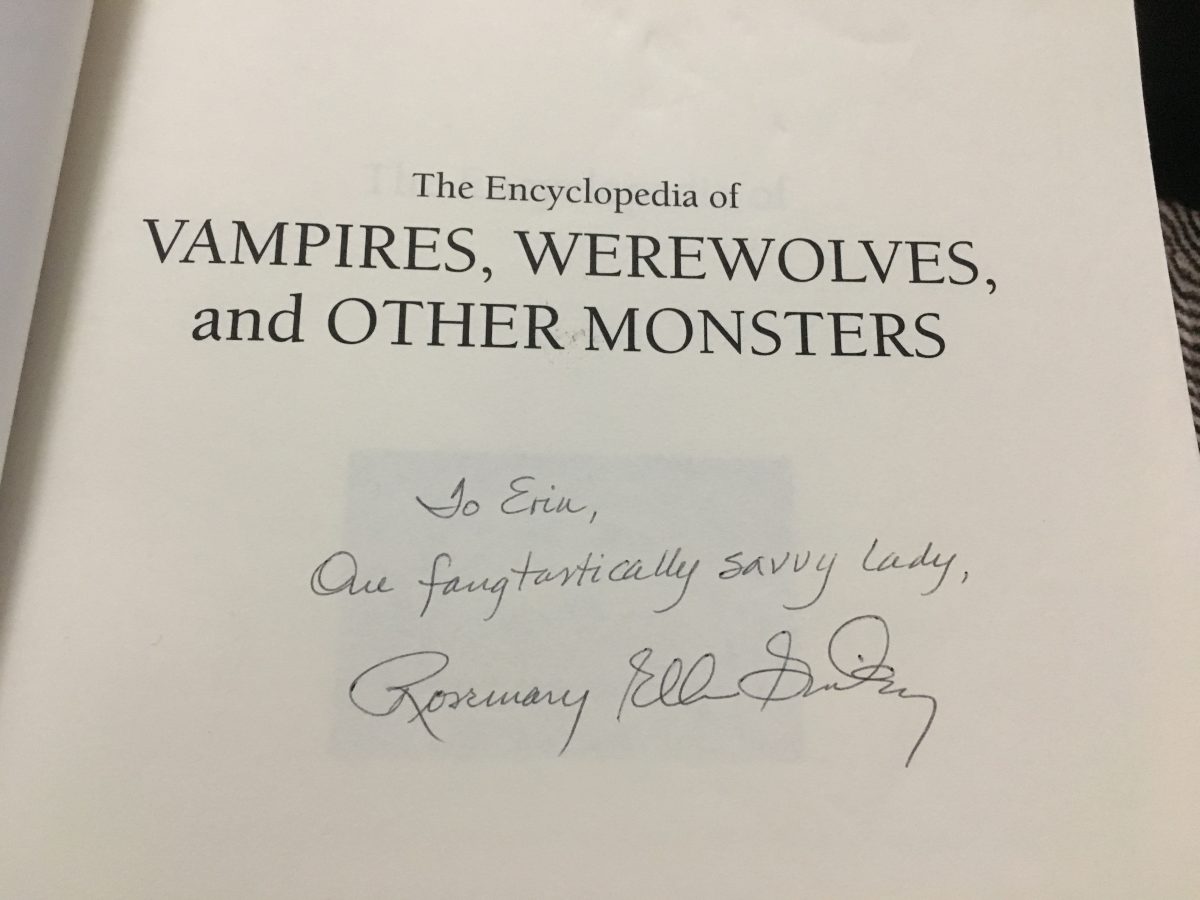 I waited until I was on my way home in the car to glance at the inscription. Her kind words made me smile. I could have easily said the same thing about Rosemary.
Notes:
The Art of Dying: https://www.facebook.com/groups/artofdying/.
while browsing a used bookstore in Texas: Erin Chapman, "Trip to Texas: The Vampire Studies Symposium and More," Vamped, April 16, 2016, accessed Oct. 26, 2016, http://vamped.org/2016/04/09/trip-to-texas-the-vampire-studies-symposium-and-more/.
Shabusen Yakiniku House: 202-755 Burrard Street, Vancouver, BC. http://www.shabusenyakiniku.com/. I found the food was good, but the service was horrible. We had to ask three times for our drink order and every time we needed something we had to flag down a waiter. No one checked on the table at all.
Stay tuned for our interview when we get around to compiling our questions! In the meantime, you can check out Rosemary's website: http://www.visionaryliving.com.