In my July 9 article, "Fancy a Bite? China's Vampire Café", I discussed the recent "blood bag" drink craze sweeping across China. I revealed the location of the mystery café, gave you a sneak peak inside, and discovered that "Vampire Coffee" wasn't the only place selling the drinks in China. I also mentioned that the café was taking advantage of eager consumers, by doubling their drink prices, after media coverage went viral.
The blood bag drink derived from "Blood Energy Potions" sold by California company, Harcos Labs. The popularity The Vampire Dairies and True Blood in China has seen a marked demand for vampire-themed products and the drinks have taken off. Vampire fans are buying them like they're going out of style.
Now, there's a twist to the story. On July 14, the China Food and Drug Administration (CFDA) issued a statement regarding the new trend-setting drinks. The CFDA is responsible for drafting and formulating laws, regulations, rules and policies. It was formerly known as China's State Food and Drug Administration, before corruption scandals and the execution of its head in 2007, saw it consolidated and re-branded last year.
As of this writing, the English language section of their site has not translated their statement about the blood bag drinks. Here is what the statement says, via Google Translate:
Recently, much media exposure called "vampires drink", "The Vampire Diaries drink", "drinks vampire blood plasma", "vampire energy drinks", "Simulation of plasma" multiple "brand" bags beverage outlets in the network and the physical heat eliminated. Such medical products like packaging bags of plasma, to distinguish some marked "A, B, AB, O, Other" on still other types of labels.

The investigation of such products without the approval of any production, the vast majority of English-only labels, product identification labels are not standardized, are "three noes" products falsely labeled some manufacturers, production license number, as a beverage to drink existence greater food safety risks. This thrill-seeking adventures to meet people as a means of marketing psychology "three noes" products, contrary to the ethical principles of social integrity, does not comply with state laws and regulations, to mislead consumers, especially young people harm health. Currently, the food and drug regulatory departments have been ordered to close all relevant online trading platform shop selling such products, and request strictly prohibited sales of similar products in the future. Meanwhile, network monitoring and food markets to strengthen supervision and inspection, shall be punished violations found, the suspect promptly transferred to public security organs.

In this case, to remind consumers not to buy the use of such products, improve the ability to identify, avoid being taken, resulting in losses to the physical health and property. If you find a similar product sales behavior, please call the 12331 hotline immediately to the local food and drug supervision departments to report, we will carry out investigations in a timely manner, according to the law to crack down on illegal activities.
The original statement is accompanied by the following pictures—clearly cobbled together from various websites—and captioned ""吸血鬼饮料"宣传图片"—""Vampire drink" propaganda pictures":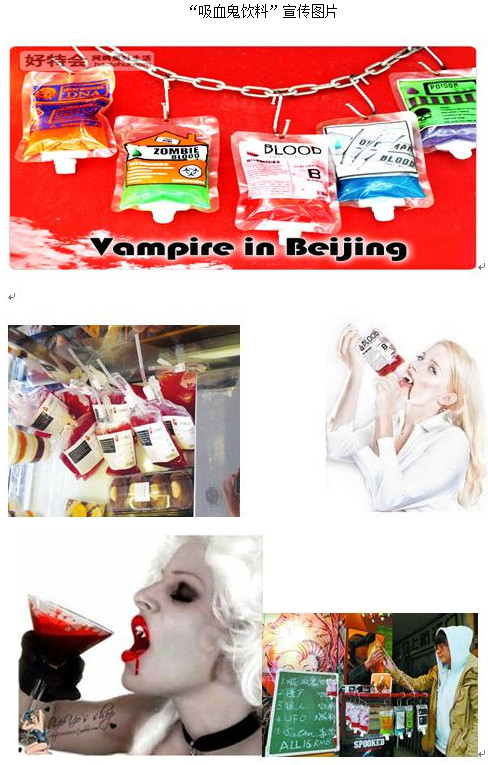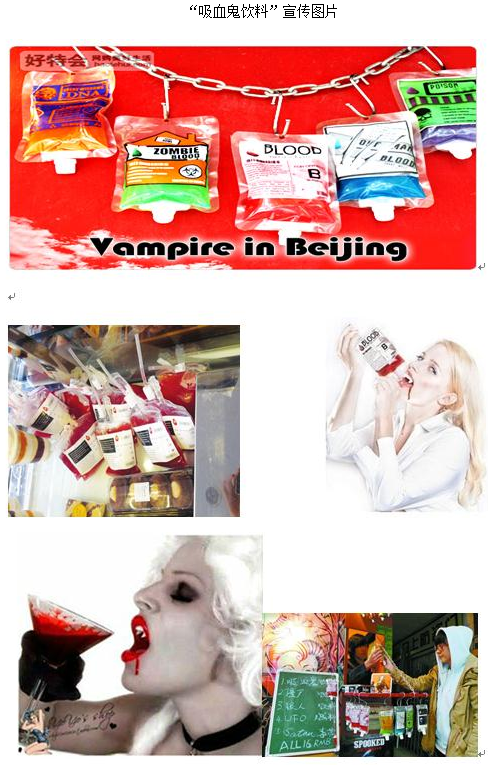 Despite the CFDA's statement the South China Morning Post reported that as of noon today, certain vendors were still hawking blood bags. Website, Taobao.com, was still offering the product as well. According to, their transaction records, one store had sold over 9,400 units. The article also mentioned that:
The drink was first released to the US market in 2009. "Staying with the theme of bringing pop culture to life, Blood Energy Potion satiated all vampire fans with a delicious fruit punch flavour," Harcos said on its website.

But a spokeswoman from Harcos denied the company is aware of the drink and its similar products are sold in China. "We do not directly sell our products to any companies in China nor have we authorized any agencies to sell the product," she wrote in an email reply to South China Morning Post.

In addition, she said "the energy drinks are tested and approved by the FDA [US Food and Drug Administration]."
When I read the article, I wondered whether the product was being manufactured locally or imported from somewhere else. The spokeswoman's denial rules out Harcos. However, in "Fancy a Bite? China's Vampire Café", I located a global, Chinese-based distributor called Alibaba.com, which sells two "blood energy potion" packaging and capping machines (one; two) and blood bags that look suspiciously like Harcos Lab's "Blood Energy Potion."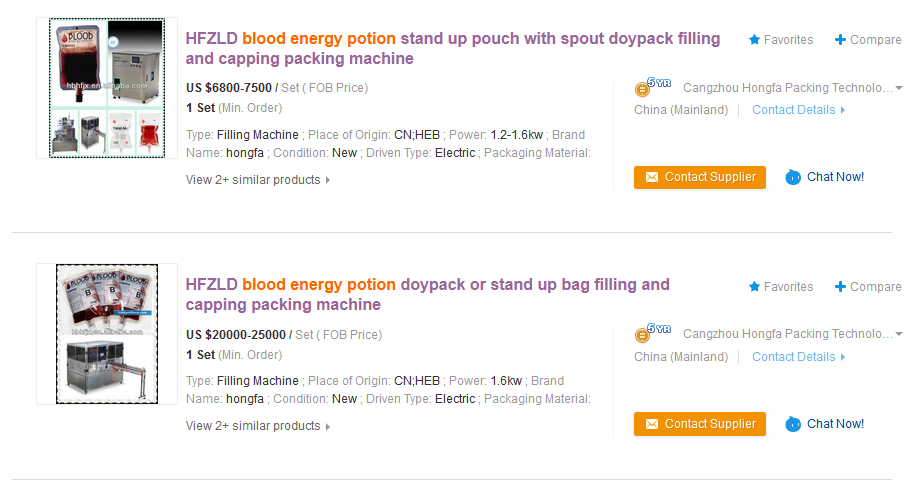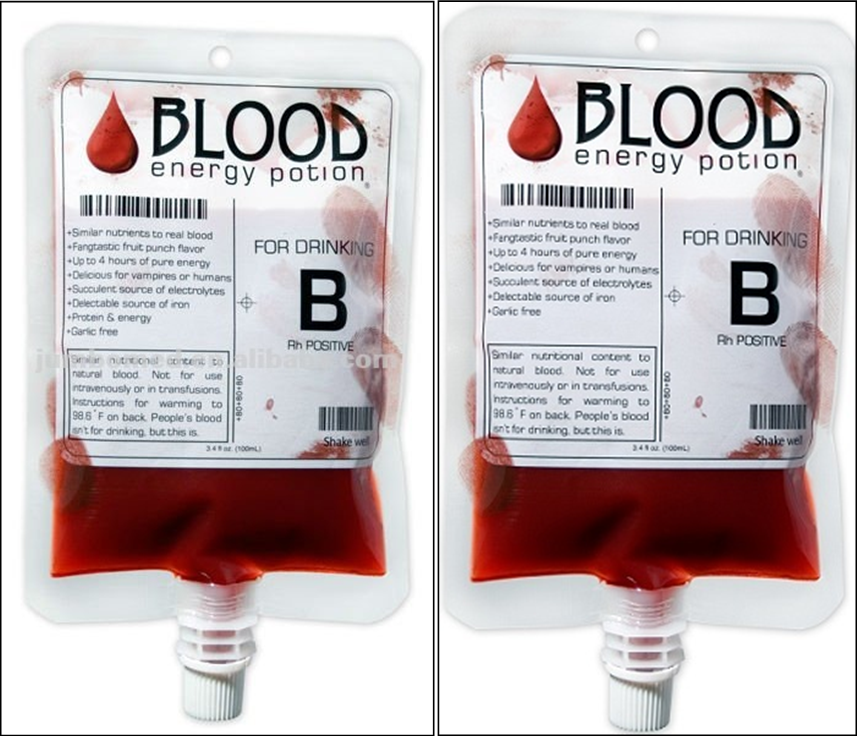 Harcos Labs' denial is given weight by pictures of the "blood bags" actually sold by Vampire Coffee. Below, is a side-by-side view of the two products. It doesn't take a genius to notice the blood bag designs and labels are different.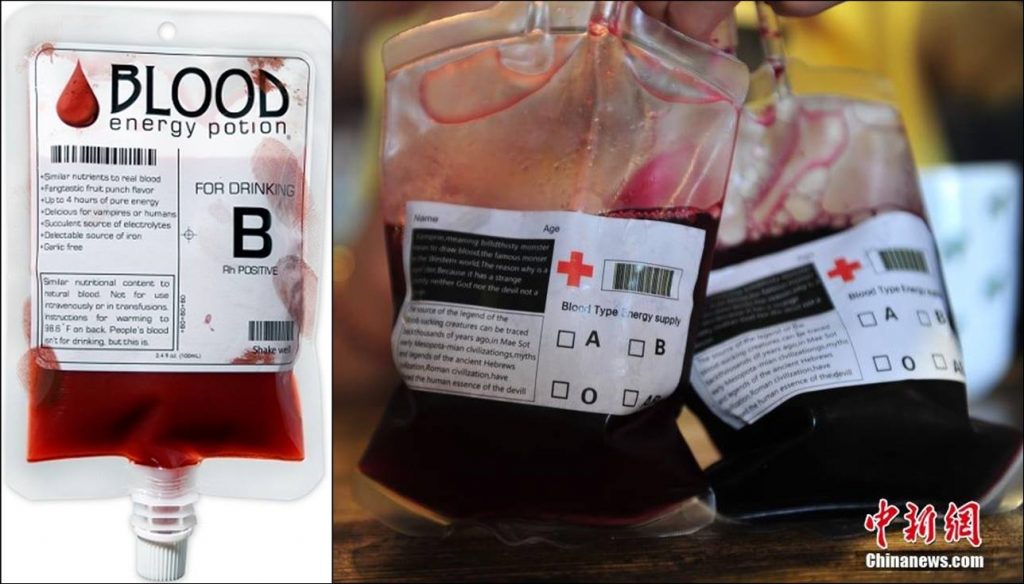 Harcos Labs' "Blood Energy Potion" gives an item description, along with nutritional information. The Vampire Coffee version, on the other hand, is called "Blood Type Energy Supply" and doesn't mention any nutritional information on its front. The text featured on its front is a "Chinglish" description of the vampire myth's origins. We have a clear-cut counterfeiting case.
If retailers are still selling the fake blood bags it will be the CFDA's responsibility to enforce their ban, but I'm sure retailers will be selling them as long as they have supplies on hand. From a business perspective Vampire Coffee is up shit creek without a paddle.
Their business model is based on a "vampire" theme and the prohibition of their star product will kill sales. I'm sure they'll still get some customers, but who wants to hit up a little 5 table café to have some tasty baked goods normally showcased at a Halloween party? Maybe they should change the café to "horror" or "gothic" coffee and they can keep the décor.
---
For the record, this was joint effort for Anthony and myself. We collaborated on this one while the blood bag news was still fresh! Also props to the folks at La Estrella de Panamá for being one of the few media sources to discuss the Harcos Lab connection in regard to the ban. Well done, guys!