For your amusement and as a little experiment for my own curiosity, I hunted through Apple's App Store for any entertaining vampire goodness. Type in "vampires" and you get 1,639 apps to choose from! So many and where to start? To narrow my search, I stuck with free apps only (except one). I wound up downloading 18 apps and culled my number down to 5 favorites. I didn't include "game" type apps in the list, because I have an aversion to video games in general. Why you ask? Cause I suck at them and they don't interest at all.
The only annoying aspect of "free" apps is putting up with the pop-up advertisements, unless you want to splurge for the paid version. The trouble with searching through vampire apps, was that most of them honestly sucked. No pun intended. I know I can't expect something amazing, but it was a little challenging picking 5 that I felt to be share-worthy. Note also: not all apps may be available in your country. Check local listings. Without further ado, let's check out the runners up and the winner of this bloody race to the top!
---
[su_dropcap style="flat" size="3″]5[/su_dropcap] True Blood Test (2011)
Appibia
I figured with all the True Blood hype going on this one had to be included! I really liked the sound effects; it was the best part! The premise is so simple. Hold your finger to the vampire's mouth and she chows down and eats it, spraying blood. You have to keep it there long enough to fill up the bottle of blood and when it reaches the top, the game decides what type of supernatural creature you are. I tested this one numerous times and came up with werewolf, vampire, brujo, or human. However, I'm not sure if the app is still available: I tried it out two weeks ago and today, when I tried to find a direct link to the app on the Apple App Store, I couldn't find it. Website, Distimo, says it has been removed.
---
[su_dropcap style="flat" size="3″]4[/su_dropcap] Vampire Solitaire (2014)
Yongjian Xu
I'm a big fan of solitaire, as it forces my brain to think, so I had to download this one. However, I found it disappointing, as there wasn't much to it. The goal is to clear the board and once you flip the top card on your deck, you can then use a card from the board that is either one up or below the display deck card. If there isn't a card on the board that works, then you flip over a new one. Pretty damn easy! You can at least toggle the music off and if you win there are other levels to unlock, which honestly don't sound that exciting. I think you could have more playing Vampire Solitaire by downloading a version of Spider Solitaire and wearing a pair of fangs while you play.
---
[su_dropcap style="flat" size="3″]3[/su_dropcap] Vampire Movie & Book Trivia Free (2013)
Fatima Cantillano
Questions range from the original Dracula novel to movies like Twilight and From Dusk Till Dawn. It allows you to pick the number of questions you want like 10, 25, or 50. You also get 60 seconds to answer each question so no worry about crazy short time limits. The free version has a limited supply of questions, but for a dollar you can upgrade to the full version. The only problem with most free trivia apps is that you eventually start to get repeats for questions, which influences you to buy the upgrade. As far as trivia games go, this on was pretty good; however, I did find myself disinterested after a couple of games.
---
[su_dropcap style="flat" size="3″]2[/su_dropcap] iDrakula (2010)
Sourcebooks, Inc.
This app took an interesting approach with the epistolary format of Bram Stoker's novel, Dracula (1897), giving it a modern twist by retelling the story with electronic communications. At first, I thought it was just for fun, before I found out the app was actually a book written by Bekka Black (pen name of Rebecca Cantrell) released in 2010. The book itself is available for $9.99 as an ebook or paperback.
The app's about section reads, "With iDrakula, author Bekka Black has given Bram Stoker's classic vampire story a new life for a generation of connected teens. This compilation of text messages, voice messages, emails and websites is just what a teen audience needs to understand the origins and experience of 19th century readers." The app only gives you access to some of the content; if you pay an additional $1.99, you get the entire story.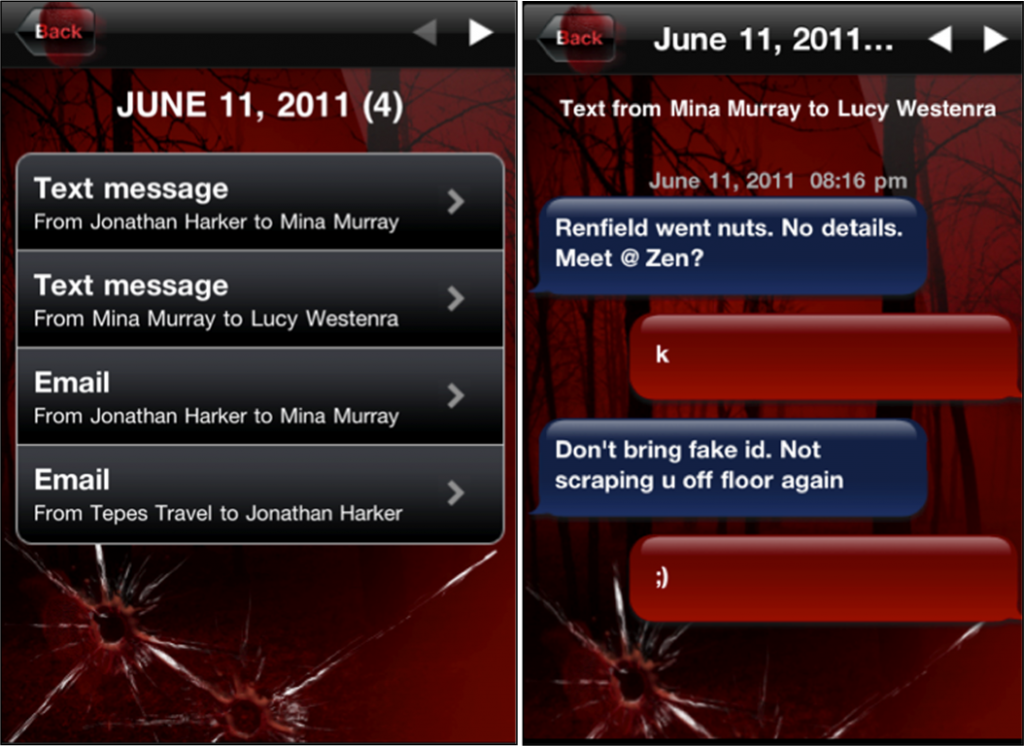 I think turning your novel into an app is a genius promotional tool, but it is only effective if marketed correctly. I enjoyed the premise of this one and some of the messages were quite amusing.
---
[su_dropcap style="flat" size="3″]1[/su_dropcap] Vampify (2014)
Apptly LLC

So, earlier I mentioned all the apps posted here were free. I admit I did pay for one app in the end that was a dollar. It had to be included so here it is a bonus. Vampify actually let's you turn your self into an animated vampire! You can either upload a pic or take a new one. The instructions ask you to align your eyes and mouth, while the app does the rest. The final product is a vampire version of you that growls, yawns, licks lips, snarls, hisses, and shows bloody fangs. The app is totally social media friendly and lets you file your new fangtastic selfie in the photo library, post directly on Facebook, upload to YouTube or Tweet the world.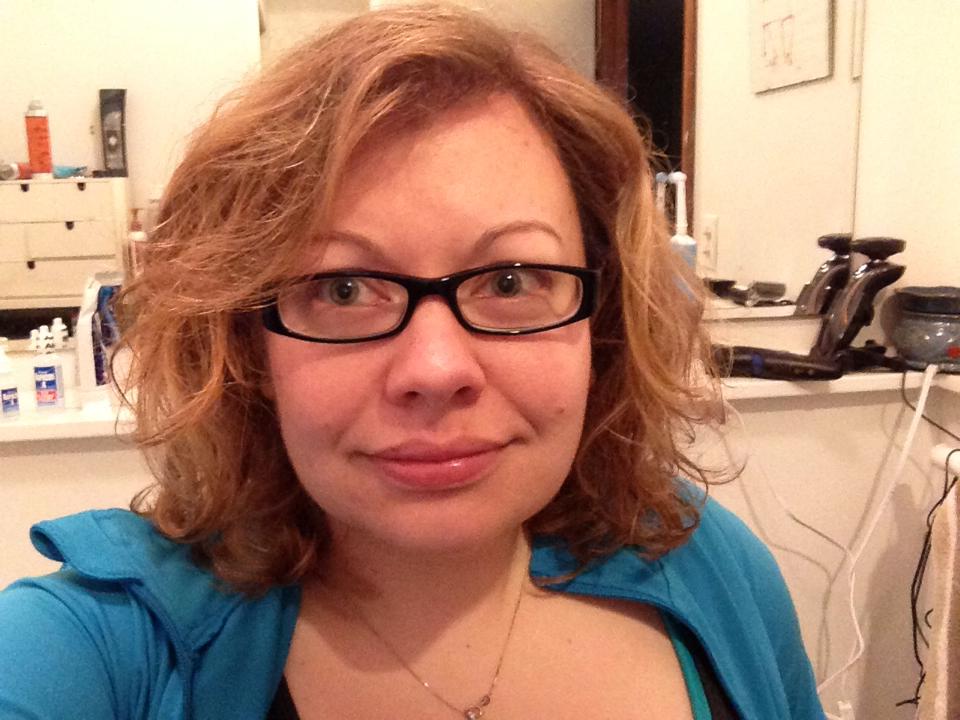 The fun doesn't stop there; you can also make a cool video showcasing your new characteristics. If you feel like splurging for a dollar each you can add some other features titled smoke, explode, touch of sun and blood tears.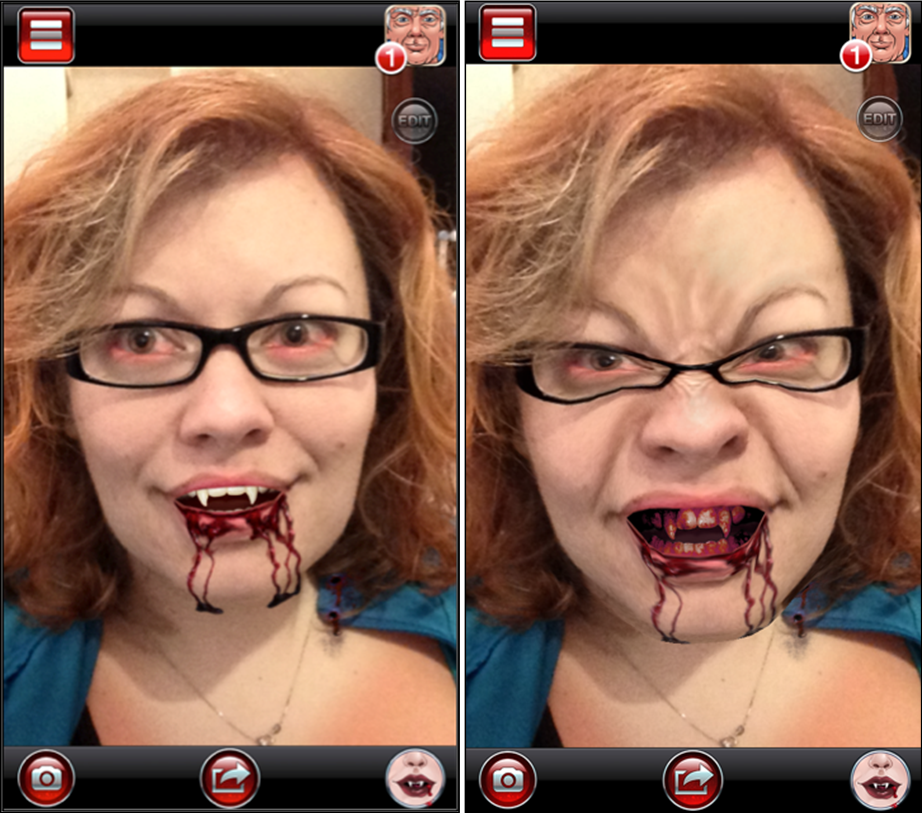 This was my favorite app of all the ones I had to try out (even if I had to pay for it). I enjoyed my new makeover. After all, how often do you get a chance to be a vampire?
---
I encourage you all if you have an IPhone to explore the App Store and see what you can find. By all means if you find something really cool, comment below and share. I would love to hear if you find any little gems in there.
Also, to save you some time, a few apps you're better off swiping past (because they're terrible) are: Free.Kompany's Vampires! What Do You Know about Them? (2011) and Vampire or Not (2012); Keyvisuals Design LLC's Vampire Name Generator (2011); and Net Unlimited's Vampire Scanner and Detector Prank (2013). Happy downloading everyone!