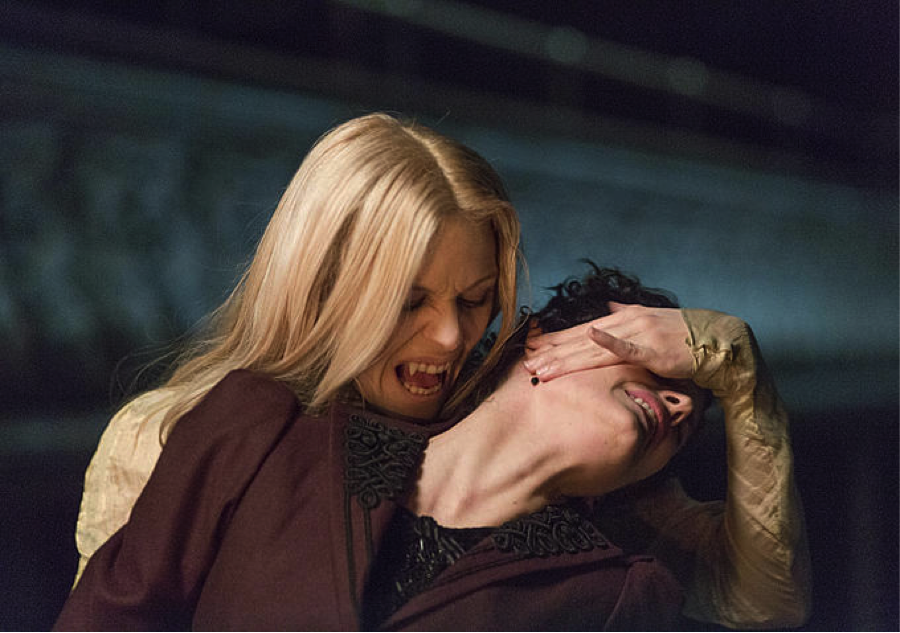 The first season of the new successful gothic horror drama series Penny Dreadful has concluded, but it's no secret that the eerie show is hitting its mark with viewers. Showtime execs have actually commented, their expectations have been exceeded and the show has been picked up for a second season set to air in 2015. For those of you that missed it, here you go!
[su_youtube url="http://youtu.be/YFXHfEqMcis" responsive="yes"]
Penny Dreadful features vampires, Dr. Victor Frankenstein, Dorian Grey, and even characters from Dracula, so I wanted to find out what was the connection with vampires and the real penny dreadfuls? For all I knew the series was just combining as much of the horror genre as they could into a gory graphic series so I needed to do some investigating.
Where Did the Show Get Its Name?
Before the show aired, I watched a promo for it and one of the first things I did was Google the name. What is a "penny dreadful"? What does it mean? According to Wikipedia,
A penny dreadful (also called penny horrible, penny awful, penny number, and penny blood) was a type of British fiction publication in the 19th century that usually featured lurid serial stories appearing in parts over a number of weeks, each part costing one old penny.
During the Victorian Era, the publishing industry transformed thanks to the steam driven printing press, the introduction of steel nib pens, the elimination of newspaper tax and the introduction of penny dreadfuls. These small booklets targeted the lower working class that struggled with literacy and couldn't afford books. It was quite common for people to share or trade them and often recite the works to friends that were illiterate.
The 8 page serials were first released in the 1830s as an affordable alternative to regular works of fiction, which usually cost 12 pennies. The stories were unique for the time because they provided the reader with adventure, gore, crime, drama and violence highlighted by illustrations. Originally they even had some romance tossed in the mix, but the gothic theme failed and horror prevailed.
Their influence can occasionally be seen today. Readers may recall Tim Burton's 2007 film, Sweeney Todd: The Demon Barber of Fleet Street, which starred Johnny Depp as the titular character. The character actually first appeared in a penny dreadful series called The String of Pearls: A Romance, published between 1846–1847. Its authorship is disputed, with Thomas Preskett Prest (1810–1859) and James Malcolm Rymer (1814–1884) being the likely suspects.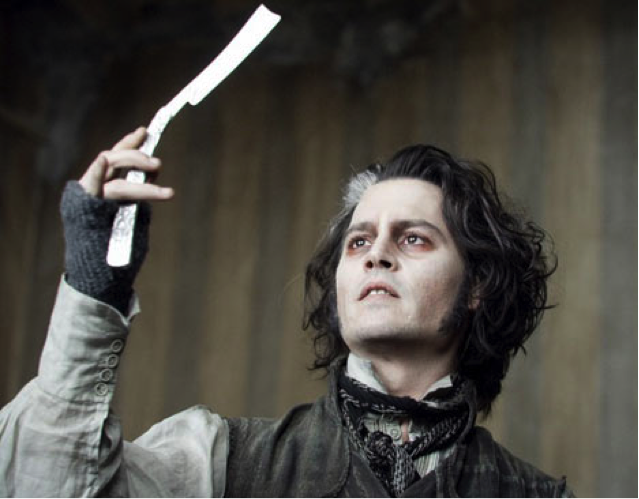 The Vampire Connection
But perhaps the best-known penny dreadful—certainly to vampire fans—is Varney the Vampire, or, the Feast of Blood. It was published between 1845–1847, and collated as a book in 1847, featuring an impressive 220 chapters and a heady 667,000 wordcount.
The book appears in Penny Dreadful, Season 1, Episode 6 "What Death Can Join Together" (2014), when Dr. Abraham Van Helsing gives Victor Frankenstein a copy as a vampire reference guide.
There has also been an ongoing dispute over Varney's authorship—indeed, Prest and Rymer are likely suspects, too. Famed vampire scholar, Montague Summers (1880–1948), weighed into the debate with the following statement in his book, The Vampire, His Kith and Kin (1928):
Varney the Vampire, or, The Feast of Blood is undoubtedly the best novel of Thomas Preskett Prest, a prolific writer of the fourth and fifth decades of the nineteenth century. It is true that his productions may be classed as simple "shockers," but nonetheless he has considerable power in this kind, and he had at any rate the craft of telling his story with skill and address.
Now his opinion is great and all, but another famed vampire scholar, J. Gordon Melton (b. 1942), counters Summers' view with something much more concrete:
In 1963, Louis James, who had inherited several of Rymer's own scrapbooks, found conclusive evidence of Rymer's authorship of the majority of the work. It was common for different writers to work on various sections of long-running serials such as Varney, and other writers might have been employed to write new chapters. (That fact might account for its often-uneven style and its contradictory statements about the lead character.)
The same article also states, "The idea for Varney seems to have been an 1840 reprinting of John Polidori's "The Vampyre" by the Romanticist's and Novelist's Library in a penny dreadful format. Varney included most of Polidori's distinctive opinions about vampires." Talk about a cluster fuck! Who actually wrote what and who copied whom? Who knows. Maybe they both did.
Varney vs. "The Vampyre"
Either way, the confusing bit to me was the Polidori connection. Was their any merit to the notion that (reading between the lines here) the author(s) ripped-off Polidori? I haven't yet read "The Vampyre", but I know it was first published in the April 1819 issue of New Monthly Magazine—and Varney the Vampire first appeared in 1845. So, it would be a pretty distinct possibility.
After discussing the matter further with Anthony on August 5, he said something that increased the chances: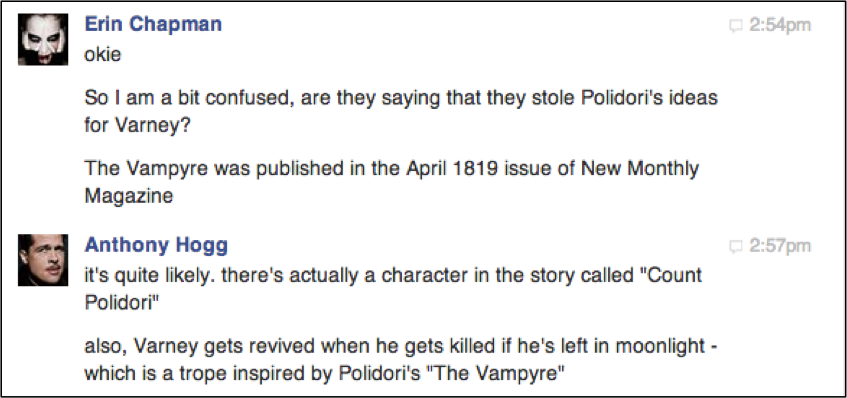 Story
The reader is taken on adventures in Bath, London, Winchester, Naples and Venice. The story's concept is that Sir Francis Varney is a vampire who passes himself off as human. Some of the usual vampire tropes don't apply to this guy, like fear of garlic or crosses. He could even potentially spend the day on the patio drinking beer and eating nachos like the rest of us; however, he may need to reach for the antacids after.
The storyline is an ongoing conflict between Varney and the Bannerworths, a family come into financial hardship when their father dies. Initially it suggests Varney is like all vampires out for blood, but later hints he simply wants to pad his bank account. The plot lacks consistency, probably due to the different authors having their hands in the cookie jar and many of the themes can only be speculated on such as Varney's apparent resemblance to Sir Marmaduke Bannerworth, or if the guy was even a real vampire.
Influence and Impact
In the literary world, Varney the Vampire was groundbreaking for the vampire genre. It introduced many popular vampire tropes that are referenced today in film and fiction such as: vampires with fangs, entrancing abilities, and extraordinary strength.
This story set the precedence for emotional compassionate vampires, which in today's world we all know too well. To name a few: Louis de Pointe du Lac from Interview with the Vampire, Angel from Buffy the Vampire Slayer, Barnabas Collins from Dark Shadows, and hell, we will even add Edward Cullen to the list from Twilight.
The Victorian era—which lasted from 1837 to 1901—basically gave birth to the horror genre, with penny dreadfuls leading to fictional novels, also made reading more affordable and available to everyone. As it should be.
In the meantime, I wonder whether Penny Dreadful's new season will introduce other characters from this era, like Dr. Jekyll and Mr. Hyde or even Carmilla!