Welcome to another blog post, which, as I noted in the previous instalment, is "the section of the site where the site's grand high poobahs—me, Erin and Sufi—talk about site changes, updates, announcements, that kind of thing"—and other items you probably don't care about.
Nonetheless, if you're a reader, you may find them very useful. For instance, here are some changes that have—or will—take place.
Commenting
Until today, if you wanted to comment on any article on this site, you had to register an account with us and log in each time you had something to say. I know, it was a pain.
Fortunately, I've simplified the process. From now on, if you want to make a comment below an article, all you have to do is fill the fields with your name, email address, website (optional), solve a simple maths problem (to keep the bloody spammers out), write your comment, click "Post Comment" and you're done! Too easy.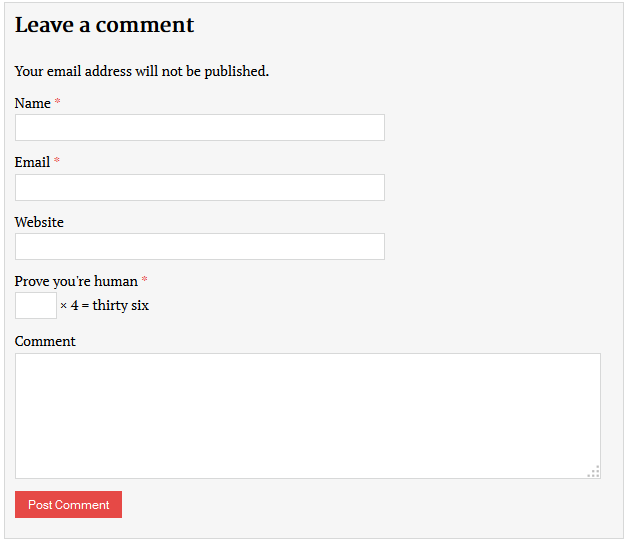 However, if we do face issues with spammers (or assholes), we may impose comment moderation, which means your comment will need to be approved by an admin (me, Erin or Sufi) before it's published (expect waiting times). We'll see.
Oh, speaking of memberships…
Memberships
As mentioned, you no longer need to register with this site to make comments—but you will need to register if an article you've submitted to me is approved for publication on this site (for those who've already had articles published, this does not apply to you).
Instead of registering directly, I will create the user profile for you (that may change in future, but don't hold your breath). You will need to provide the following information to complete your user profile:
A username, which will appears in your author URL. For instance, mine is "anthonyhogg" as you'll see in my author link (oh, and choose wisely: they can't be changed)
Your first and last name (which will be the byline on the article you've submitted—obviously)
A password: I can either make one up for you, or you can give me one. It will then be emailed to you
A link to your website, Google+, Twitter, Facebook page, YouTube—if you have any of those
A short bio about yourself—roughly two to three sentences, but no more than 250 characters (not words, characters)
The bio will appear in the author box underneath your published article. If you want your picture to go with it, you will need to create a Gravatar account (if you don't already have one). You must use the same email address for your Gravatar account as you're using for your user profile.
With the change in commenting requirements and making member registrations only for authors, that only leaves their final purpose behind: posting on our forum. Speaking of which…
Forum
We're finding that the site's forum, carried over from the previous design, isn't entirely compatible with the site's current format, so we'll be phasing it over time. It won't die completely, it'll just appear in a different form. Like a phoenix.
Not like it makes much difference: it's barely used now (largely because I haven't actively promoted it, even if it did help me make a wonderful discovery)—but that will no doubt change once I unveil what I have in store for it. Can't say much else about that at the moment, except stay tuned.
In fact, it's not only the forum that will resurface, but the membership aspect, too—but for something very different. You'll see.
---
Correction: September 15, 2014
I originally wrote, "A short bio about yourself—roughly two to three sentences, but no more than 50 characters (not words, characters)"—my goof. Your bio can actually be 250 characters. I got word count mixed up with character count. Oops! I have now corrected the sentence.