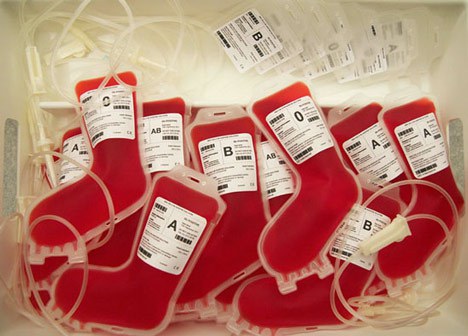 Christmas is finally here! I would like to tell you we have snow here in Vancouver, but sadly only rain, and lots of it! Meanwhile, Anthony is enjoying some toasty sunshine in Australia.
Anthony and I haven't posted many articles this month simply because it's been chockers for both of us. Between work and personal commitments neither of us have had much time for writing. We are getting a backlog of articles so don't worry, you'll be able to get your vampire fix in the New Year. We have some cool articles lined up and hopefully things will slow down a bit in January so we can play catch-up.
Building My Own Vampire Library
Christmas is always kind of challenging for vampires, fans and enthusiasts. Obviously it's not like Halloween where  you can swim through the amount of "vampire" content on the web. Christmas is a little more difficult when trying to track down some "vampire" goodies so I figured I would do the work for you and compiled a vampire pressie bag!
Speaking of pressies, apparently I am extremely difficult to shop for. The one thing I always love is books, but not just any book will do. This year I asked Santa for some very specific titles: Elizabeth Miller's Dracula: Sense & Nonsense (rev. ed., 2006) and J. Gordon Melton's The Vampire Book: The Encyclopedia of the Undead (3rd ed., 2011).
With Anthony's guidance, I have slowly been building my own vampirologist library, which I can now share with everyone. He helped me set up my account on Library Thing last Saturday, but I still have to catalogue more books. I suggest checking out Anthony's account, which currently boasts 238 books! Looks like I got a lot of catching up to do. 
Christmas Goodies
Here's few cool things I came across while looking for vampire gifts. I cook a lot, so the Handmade Character Oven Mitts: Vampire Oven Mitt available through AlwaysFits.com had great appeal to me. Get it for that chef in your life!
For USD$98.60 you can pick up a Vampire Bat Latex Gothic Industrial Fetish Cyber Bag Backpack from Rebels Market. That one was a mouthful to say! This little gem is actually shaped like a real vampire bat, kind of cool and totally unisex in my opinion!
For the ladies, check out the Vintage Vampire Bat Double Finger Rings on DHgate.com. Or, try this Dracula Book Purse on Etsy. I am not a fan of purses at all, but I would possibly make an exception for this one!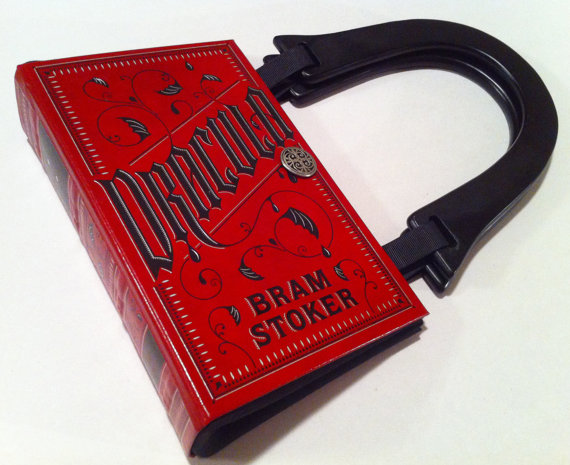 The same company even makes a Vampire Chronicles one for Anne Rice fans: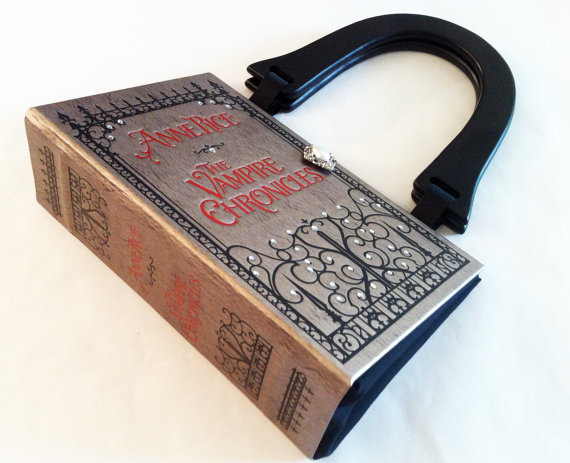 All I Want for Christmas Is a Vampire
I know many of you good boys and girls have extensive Christmas wish lists, but who actually asked Santa for a vampire? Didn't think of that one did ya?
If you wake up on Christmas morning and are fortunate enough to find a coffin under the tree you may need Count Gore De Vol's handy instructional video: "Unpacking Your Christmas Vampire!"
http://youtu.be/sPoggwdr0dM
I know that dancing was borderline soft porn, but it made me laugh and I had to share! Plus you try finding something interesting on YouTube to share with vampires and Christmas. It's not as easy as it sounds.
Twas the Nightmare Before Christmas
The next bit doesn't really need much of an introduction. I put my writing and creative skills to the test and put a vampire spin on a classic. Enjoy!
Twas the night before Christmas when all through the castle,
Nothing was moving, not even a curtain tassel.
The table was set with black candles and dishes,
The gothic spread I prepared looked absolutely delicious.
The fire was roaring and crackling away,
As I put on Bela Lugosi's Dead and hit play.
The blood bags were hung in the dining room with care,
In hopes that some vampires soon would be there.
I still had time to kill until my guests arrived,
For my ultimate Christmas party for the dead and alive.
In case you didn't know vampires were nocturnal,
And depending on who you ask in the VC, also eternal.
I snuggled up all toasty on top of my bed,
And cracked open my copy of Bell's Food for the Dead.
I read for a while and then signed into Facebook,
Checked out my groups and gave my newsfeed a look.
As usual Anthony was discussing vampires on a thread,
Explaining to some newbie that vampires aren't the undead.
Trying to distinguish between "vampyre" and "vampire" is moot,
They are the same thing except "vampyre" has archaic roots.
You need to refer back to the Arnold Paole case,
Exhumations were done and the dead were displaced.
The English word "vampire" emerged in 1732
And revenants can be ghosts and animated corpses too.
Trystan was posting some lovely English graveyard pics,
Allen was sharing about his crazy cats getting their kicks.
Kevin was writing like a mad man for his new book,
Dan was searching for some gluten free goodies to cook.
Sufi was reviewing films and Indiejudging like normal,
Debi was watching horror movies featuring immortals,
Laura was posting about coffee and vampires covered in blood,
And suddenly I heard someone knock with a loud thud.
I sprang from the bed and ran to open the door,
And was surprised to see Santa, only dressed Goth hardcore.
My mouth fell open, and I stared with delight,
Was Santa a vampire? Hmmm maybe just for tonight?
I invited him in and he flopped down on the couch,
Reached into his jacket and pulled out a velvet pouch.
"Since you have been such a good girl this year,
I picked you up some new vampire gear."
He handed me a copy of Vampires, Burial & Death,
And then opened the pouch and I held my breath.
Santa had brought me a custom set of vampire fangs,
He grinned and asked, "Now what do you have for my hunger pangs?"
I gestured to the spread, and told him he could have anything to eat,
But instead he smiled showing his fangs and asked for a treat.
He grabbed a blood bag and downed it quickly like a beer,
Wiped his face with a napkin and said, "Thanks for the Christmas cheer!"
He patted my head and dashed out to his sleigh,
Shouted at the reindeer and was then on his way.
But I heard him exclaim, as he drove out of sight,
Happy Christmas to all, and to all a good bite!
From Vamped to You
Well, I have to scoot folks, time for some festivities and probably a few well deserved holiday cocktails. But before I go, here is some holiday cheer for you Vamped style!
[su_youtube url="https://www.youtube.com/watch?v=taWLtE_jZrI"]
Anthony and I want to wish you and your loved ones a Merry Christmas and happy holidays. Stay safe, take care and don't overdue it on the blood!