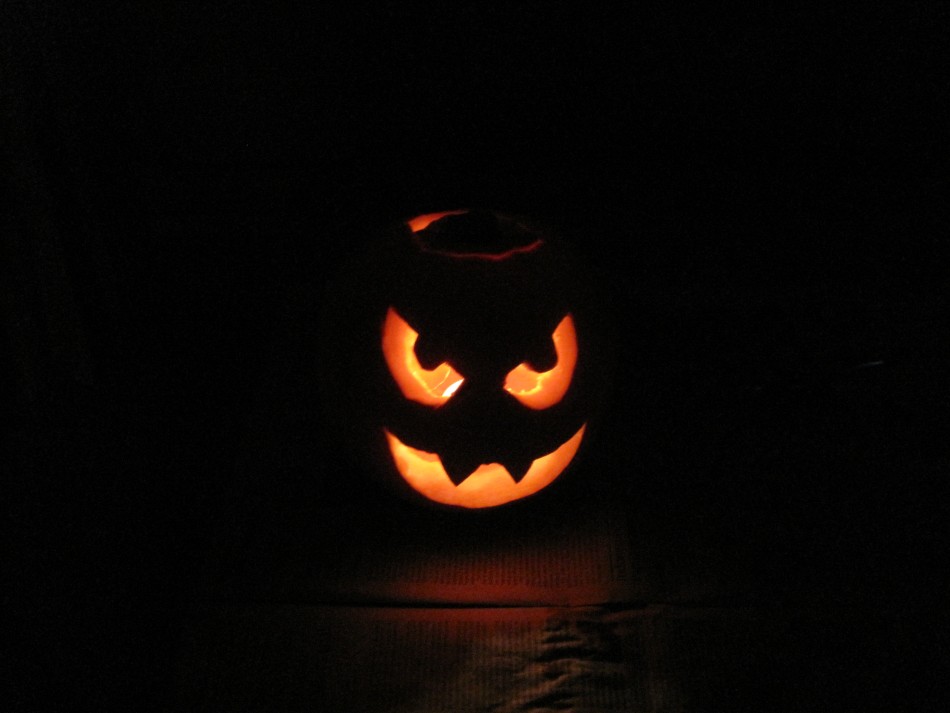 As many of our readers may already know, Anthony and I will be in Corinth, Texas this Halloween for "There Are Such Things! Vampire Studies Symposium." We will be rubbing shoulders with some of the country's most authoritative vampire experts and academics.
This occasion marks a couple of milestones for us. It is the first event that Vamped has sponsored since it's launch on Jan. 20, 2013 and it will be the first time that Anthony and I will meet in person. Yes, Vamped is owned and operated by two people that have never met in person and live on opposite ends of the world. All of our communication is done via phone or online. A pretty impressive feat if you ask me and I must admit I am a little excited.
Anthony will be flying in from Australia and I will be coming from Canada. For anyone not able to make the event, don't worry we have you covered. We will be taking tons of photos and filming the speakers. All footage will be available on Vamped and our YouTube channel so stay tuned. As usual I will document the trip with a travel feature. If we are lucky Anthony will do the same.
For Halloween this year, I figured I would keep the Vamped tradition going and give our readers another vampire treat bag of sorts. Enjoy and make sure nothing gets stuck between your fangs!
Vampire Bunny
[su_youtube url="https://www.youtube.com/watch?v=wjHYtvsbrDI&feature=youtu.be" width="900″][insert picture of Cher as a vampire][/su_youtube]
I know you were probably thinking about the old school vampire bunny, Bunnicula: A Rabbit-Tale of Mystery (1979), written by Deborah and James Howes. But, no. I decided to go with something with a little more pop and easier on the eyes. My other half sent this to me the other day. Apparently Playboy is into public service announcements now.
Vampire Drink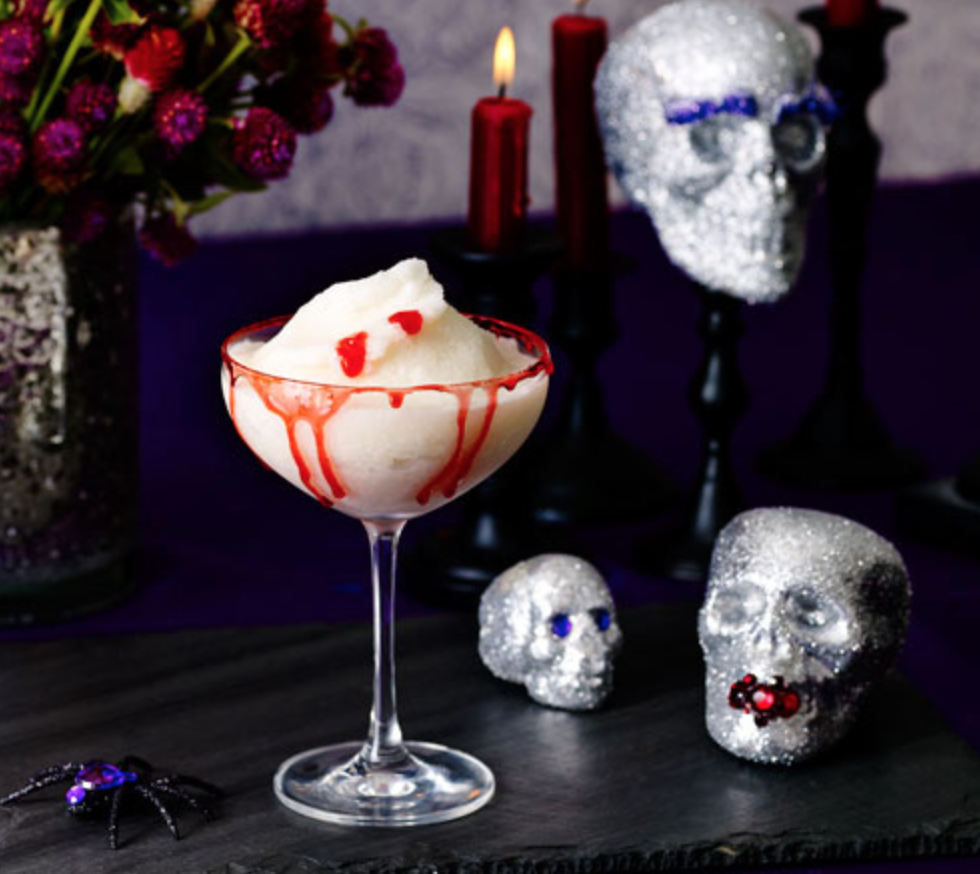 All the bunny's talk about alcohol made me thirsty so I found just the thing. Clinton Kelly posted a fantastic looking drink called "The Vampire Bite Piña Colada." He puts a Halloween spin on the classic yummy slush. For those of you that don't know who Clinton is, he hosted What Not to Wear on TLC. I used to occasionally watch the show just for his funny commentaries.
Now if drinking vampire Piña Coladas doesn't get you in the mood for Halloween, perhaps this video of Sookie from True Blood singing about vampires will.
[su_youtube url="https://youtu.be/vnllYrNrLNc" width="900″][/su_youtube]
Dancing with the Vampires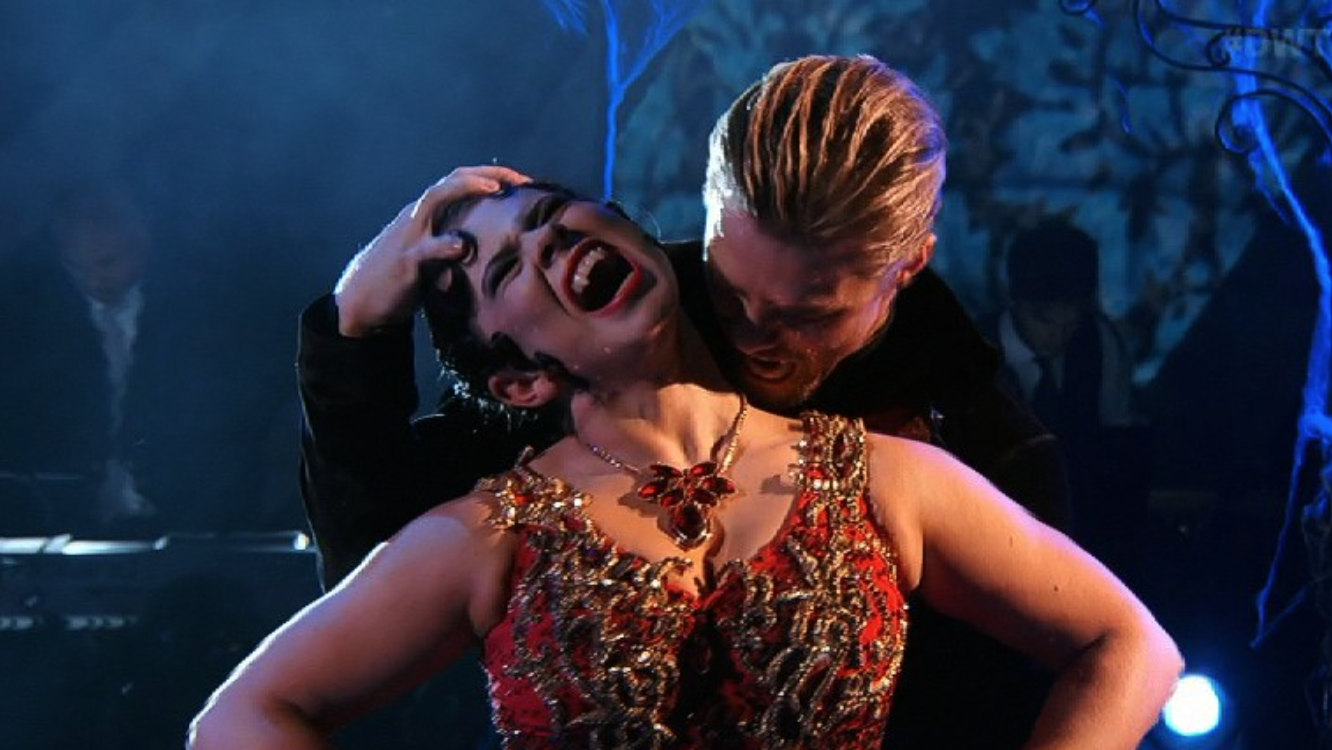 What's singing without some dancing? I am not a fan of the show Dancing with the Stars, but my grandmother and mom love the show. Bindi Irwin, daughter of late crocodile hunter Steve Irwin, vamped out the other night with dance partner Derek Hough to the classic song from the Lost Boys (1987) track, "Cry Little Sister."
Vampire Movie
What is Halloween without some vampire movie goodness? The cult classic Lost Boys was always a favourite of mine as I grew up with it, but for my film recommendation I am choosing something far older.
For those of you not familiar with my "Virgin's Views" on Vamped, Anthony assigns me to review an old school classic film that I  know nothing about. I am not allowed to look up the film in any way until my review is complete, hence the term "Virgin's View."
I suggest you curl up on the couch with some snacks and check out the Horror of Dracula, starring the late Christopher Lee. I don't want to give away any spoilers, but I will say so far out of all my film reviews this one tops my list.
Blood Ice Cream
Being lactose intolerant ice-cream is not usually my go to treat for a snack. I stumbled upon a recipe the other week for homemade ice-cream fit for any sanguinarian or vampire for that matter so I had to share it. This recipe is ideal for people with egg allergies, but definitely not suitable for vegetarians. The recipe "from the Nordic Food Lab is inspired by variations of the traditional Italian dessert sanguinaccio." If you haven't guessed we are dealing with blood ice-cream folks. This is one recipe I won't experiment with, but if you do, feel free to let me know how it turned out.
I wish I had more time to make this year's treat bag bigger, but I am running on a tight schedule between working and getting ready for the trip. I was amazed I managed to squeeze this post in before I had to catch my plane. Anthony had even less time as he is on a plane as I am writing this.
Anyway, Anthony and I wish you all a safe and happy Halloween from Vamped! Don't eat too much candy and take it easy on the blood. Make sure to keep checking back in November because we have a lot of stuff coming up.
Notes:
If these treats weren't enough you can check out our bag of vampire goodness from last year. Also make sure to follow us on Twitter at @vampednetwork for vampire symposium updates this Saturday Oct. 31, 2015 from the conference.