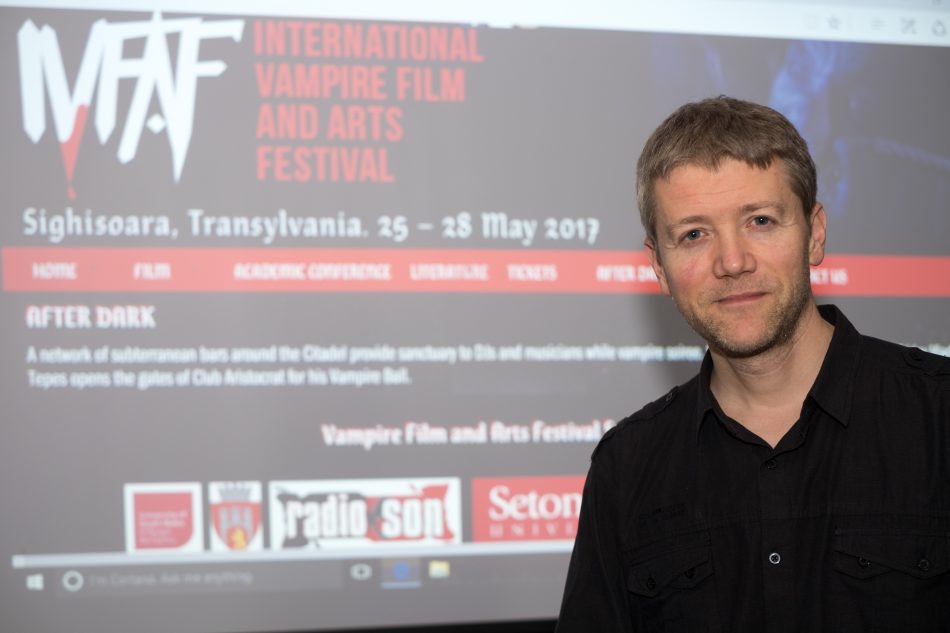 The third International Vampire Film and Arts Festival, aka VampFest, will take place at Sighisoara, Romania, on June 7–10, 2018. The event is seeking £10,000 through Kickstarter.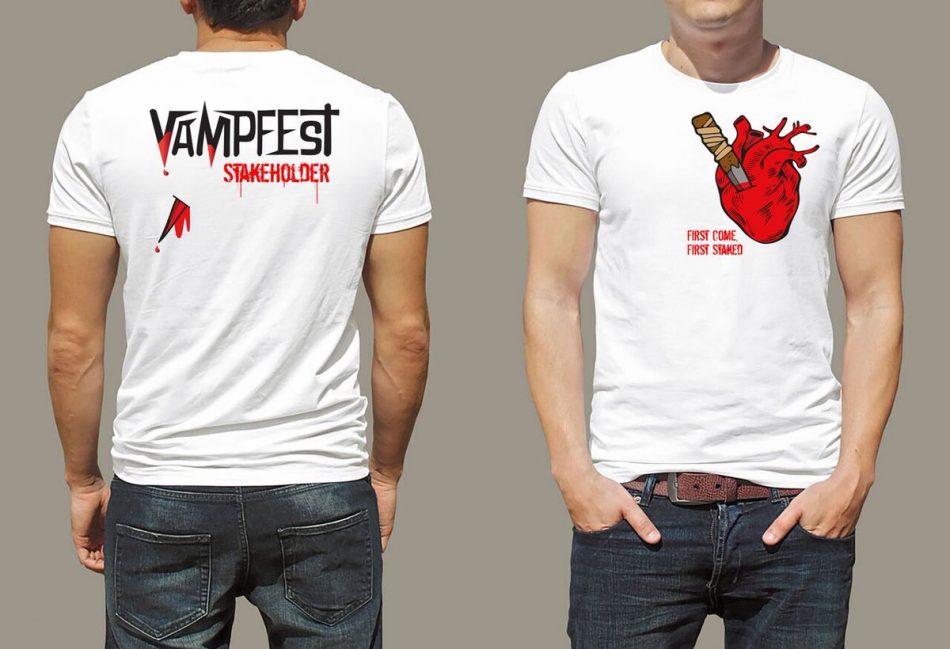 The event's founder and director, Craig Hooper, is a journalist and documentary filmmaker who teaches Journalism at the University of South Wales. I wanted to know more about the event and why it needed the money. Here's what he had to say.
Anthony Hogg: What inspired you to start the International Vampire Film and Art Festival? How did it all come about?
Craig Hooper: The idea for the vampire festival came about during a family holiday, which was a driving tour of Romania. I have always loved vampire films and literature ever since I read Dracula when I was 14 (scared the hell out of me), so visiting Transylvania was special. I wasn't disappointed – it's just like you'd imagine it to be, but in many ways it's better. I was wandering around the medieval walled citadel of Sighisoara, where Vlad Dracula was born, when I had the idea for the festival. It's stunningly beautiful and at the same time, scary; there are loads of great bars, restaurants and hotels, not to mention fascinating venues, and it's perfect for a festival because everyone would be together all the time, whatever hotel they were staying at – everything is just a short walk from everything else. I also knew straight away I wanted it to be a multi-media festival, not just a film festival.
I came back from the holiday and immediately contacted my friend Peter Phillips, who runs a range of festivals across the world, including the world's biggest Elvis Festival and Tedfest, celebrating the comedy TV show Father Ted. Within a week of telling him, he'd contacted the Romanian government and was invited out to set it up. A few months later, we put on our first festival in 2016 in Sighisoara.
AH: This is the third International Vampire Film and Art Festival you've organised. Why do you need £10,000 to fund the 2018 festival?
CH: So far this has been a very 'boutique' event. We've never advertised it and we have no sponsors – everything works through word-of-mouth, and myself and Peter have borne the costs of the festival ourselves. This year, we'd like to take things to the next level.
If we have a budget before we start selling tickets, we can invite more big name guests, put on bands and events and advertise them. We'd also like to improve some of the facilities for film screenings. At the moment they're hugely atmospheric – we hold most of them in medieval catacombs beneath the old cobbled streets. But the capacity is limited so we'd like a bigger screen and a better sound system. This would also benefit the town, as we'd leave the equipment in Sighisoara for community use between festivals. Our goal of £10,000 would really help with this.
AH: You've decided to use crowdfunding website, Kickstarter, to fund your goal. Kickstarter funding relies on pledges; if the final goal isn't met, you don't get any of the funds pledged. What happens if you don't reach your goal?
CH: Not reaching our goal does not mean the event doesn't happen. It would just mean it stays a 'boutique' event, where if you're 'in-the-know', you get to come to a bucket-list location and have a fantastic time.
We're just planning to re-launch the Kickstarter campaign as I think we made a bit of an error when we launched it the first time. Almost all of our rewards when we launched required the backers to attend the festival in order to collect their rewards. For example, a backer can sleep in a coffin in one of the catacombs under the town for a night, or attend a 'banquet of blood' after dark in Bran Castle (the one Bram Stoker chose as Dracula's castle). That castle is never open to visitors after dark. You can't just choose to rock up to Transylvania on your own and pop in to Dracula's castle for a bite to drink and a party, or choose to sleep in a coffin just yards from where the real Vlad Dracula would have walked. These are unique rewards.
But of course, these weren't things that could be 'impulse' pledges. A backer would have to first book time off work, then book babysitters/ dogsitters/ batsitters/ housesitters etc, then book flights and then book tickets (our tickets can include accommodation and Bucharest transfers so at least that part's simple). Hardly something people can do on a whim.
So now we've added a load more really great rewards that you can get straight to your sofa – including a great range of exclusive Vampfest Stakeholder T-shirts and the opportunity to have your name 'staked out' on the walls of the ancient citadel where the real Dracula once stalked (and staked). Basically, backers who choose this reward will have their name – or whatever name they choose – projected onto the citadel walls during the festival. At the centre will be the big names in vampirism, (so Bram Stoker, Stephen King, Anne Rice etc). And early backers will get their names closer to the centre and the name of Vlad Dracula himself. That reward is just £5 (about $3) so it's likely to go quickly! There's also the chance to watch some of our films at home and even become a jury member to decide who wins the Golden Stake.
Of course, we'd love to see every backer at the festival, but we realise this isn't that easy for many people, so we're hoping these rewards will help those who can't make it get involved and really help the festival grow organically into something really special. Ask anyone who's already attended and they'll tell you it's special already, and it is… but we want it to be better again.
AH: Despite the region's historical connection to Dracula, it's still a long way for many people to travel. How would you convince them they should book a trip there?
CH: Firstly, this is truly a bucket-list location. It's Transylvania! It's scary and beautiful and friendly all at the same time. And for most people in the west, it's great value for money, with a pint of really lovely beer costing less than £1. The hotels are great, as are the restaurants and bars, and again, they're great value. And during the festival, the weather will be amazing, between 25-30 degrees Celsius. Not great weather for vampires, admittedly, but it's after dark that the vampires come out to play…
Sighisoara is the most amazing thing about the festival. It's an ancient walled citadel, a UNESCO World Heritage Site, but still a bustling and busy town with great facilities. It's as beautiful as any ancient town in the world, including Prague, Bruges and other places which get millions of tourists every year crowding the streets. In Sighisoara the narrow, cobbled streets aren't crowded, although you do get quite a few tourists.
I've already mentioned the hotels and bars within the walls of the citadel. There's also a huge – and quite spooky – graveyard at the top of the 400-year-old covered wooden steps. In all, it's the perfect location.
Getting here isn't a problem, either. We suggest flying into Bucharest airport. If you book a transfer with us, the festival actually begins in Bucharest, with a tour of Dracula's castle in the old town before heading out to either Dracula's grave at Snagov Monastery or taking a tour of the amazing Castel Film Studios. Our luxury bus will then take you through Wallachia to Transylvania, with a stop at the spectacular Peles Castle on the way.
If you want to make your own way to Transylvania, there's a spectacular train journey from Bucharest through the mountains via Brasov. Or you could fly to Sibiu or Cluj and get a taxi through some spectacular mountain scenery (we can help arrange those for visitors).
Overall, what I'm trying to say is that it's not really that difficult to get to, and once you're there, you won't regret it.
AH: There seems to be a lot of local opposition to Dracula-based tourism in the region – a proposed Dracula theme park was halted by local and international lobbying. What has been your experience with locals and their attitude to the festival?
CH: We've been welcomed by the local people and the town. We were quite careful to avoid calling it a 'Dracula' festival or 'Dracfest', as Dracula was a real person and is considered to be something of a hero in Romania, albeit a ruthless and bloody one. One of the aims of the festival is to educate visitors that Transylvania is not just about vampires. Once people come here, they want to come back. Local people seem to understand that the vampire phenomena is a good way of attracting people to the area in the first place and so they accept the festival. And we try not to be too tacky about it all. The academic conference gives it some real gravitas and credibility, and one of our special guests this year is Dacre Stoker, Bram's descendant, who's a historian and author. He's fallen in love with Transylvania and will be giving a talk to guests exploring the differences and similarities of Count Dracula and Vlad Tepes from a purely factual point of view. He's keen for visitors to understand the history and beauty of the place, while still allowing them to enjoy – and be terrified by – the vampire myths that still exist in the area, not least those created by his great granduncle.
AH: The festival showcases films, novels and short stories. Which were your personal favourites?
CH: The winner of the Golden Stake for short story at the last festival was a cleverly-written dark and funny tale called 'Trust'. You can see it being read by an actor in Sighisoara graveyard on the website. That was really good. As for films, the quality is often amazing. These are made by creative people usually using just blood, sweat and tears… and a bit more blood, in most cases. It's amazing to see what can be done by guerrilla filmmakers these days. Last year's feature winner, 'Vampariah', was full of special effects, gore and humour and was a real crowd-pleaser. On top of that, we always get a few bigger budget productions and we always show a classic or two. It's difficult to pick a favourite – I have genuinely enjoyed every film we've shown.
AH: I'm also pleased to see the festival also hosts an academic conference. Who was your favourite speaker and what did they talk about?
CH: Again, I can't pick a favourite. To be honest, I'm not always able to see them all as I'm running around town trying to make last minute arrangements or trying to find some emergency fake blood. However, I do remember our first keynote in 2016 involved the live presentation of a radio adaptation – with a range of actors and live backing music – of Dracula in various locations around the citadel. I remember listening to the scene where Renfield can sense the approach of Dracula while in the torture chamber built into the walls of the citadel. It was very atmospheric.
Another was a study on modern beliefs in Strigoi in Romania, which again was fascinating. The range of presentations is always amazing and not just of interest to academics. It really adds to the whole festival.
AH: If this festival is successful, would you host a fourth? What do you envision for the festival's future?
CH: Yes, there will definitely be a fourth and fifth and so on. It's a permanent fixture. Maybe we won't ever make money, but it's great fun. Of course, it would be great to make a profit and our plans are for it to grow bigger and bigger and maybe make it a multi-location festival, with Vampfests across the world throughout the year. Wouldn't that be great? Although Transylvania will always be the home of the vampire and the main location for the festival.
Notes
I wanted to know more about the event: Questions emailed to Hooper on November 5, 2017. Answers received November 7, 2017.
What inspired you to start the International Vampire Film and Art Festival?: My apologies; it should have been Arts, not "Art." I regrettably repeated this error more than once in my questions, but opted to leave my error in to preserve the integrity of my original questions. –ed.
Dracula theme park was halted by local and international lobbying: Nick Thorpe, "Romania Scraps Dracula Land," BBC News, World ed., June 28, 2002, accessed November 5, 2017, http://news.bbc.co.uk/2/hi/europe/2071513.stm. Saved link: https://web.archive.org/web/20171108113542/http://news.bbc.co.uk/2/hi/europe/2071513.stm.
If you'd like to donate to VampFest's Kickstarter campaign, visit: https://www.kickstarter.com/projects/1865476136/vampfest-the-international-vampire-film-and-arts-f. [Campaign was cancelled on November 9. See November 13, 2017 update. Saved link: https://web.archive.org/save/https://www.kickstarter.com/projects/1865476136/vampfest-the-international-vampire-film-and-arts-f. Campaign will be re-lanched. –Ed.]
If you're interested in knowing more or attending the event, view the International Vampire Film and Arts Festival website: http://ivfaf.com/.
You can follow the event on Facebook, Instagram and Twitter for pictures and updates.
Updates
November 13, 2017
Photo of Craig Hooper added to article, kindly supplied by the photographer, Daniel Damaschin. The placeholder featured image, the "First Come, First Staked" photo used in this article, has also been changed to the Hooper photo.
VampFest's Kickstarter campaign was cancelled on November 9. Backers pledged £174 of its £10,000 goal. VampFest will be re-launching a new campaign. Follow their website and social media accounts for details.