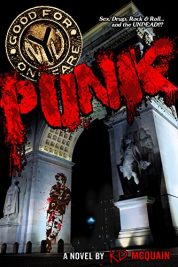 NYV: PUNK
by K. D. McQuain
Black Marque Press, US$0.97 (Kindle)
Published September 24, 2015
NYV: PUNK is a mash of two types of book, where coming-of-age merges into horror and leaves the reader with some mysteries at the end of its length.
Concentrating on fifteen-years-old Chris, his identity is as much a mystery to the character as it is to the reader. Brought up by his mother, home-schooled, prevented from leaving their property and all the while knowing that she was disappointed that he wasn't a daughter, the reader is left with the impression that there was something about his heritage that was enigmatic, special and due to emerge.
It also means, as he subsequently runs away from home, that he is in many regards a blank slate, polite but little else, for which to draw upon and build upon. Very early into his flight to New York he is attacked by a creature but, the attack being interrupted, he survives (despite a wicked knife wound to the chest). He finds that he starts having dreams of the creature, who is becoming younger and more robust, but also doesn't comprehend just how quickly he has healed from his wounds.
The coming of age side dominated the book, with moments of violence peppering that narrative and I really did enjoy this approach as it helped underscore the horror really well. Occasionally I felt Chris was a little too knowing, given his restricted background, but this could be narratively explained if it went too far (it never did). Occasionally I felt that we needed a burst of the horror sooner than we got it—but those moments were few and far between.
The vampire lore was interesting, drawing into Mesoamerican myth as well as tying in the Islamic djinn and some of the European lore. We see so little of the vampires that we don't get much on their weaknesses (one feels that the lore aspect will dominate the second volume that little bit more) just their explosive violence and lusts. We do get a smattering of the vampires' own folklores—that they are an ancient race, worshippers of a Goddess named Kalika and believe that they emerged from the source of the Nile. Several vampire types from world myth are named.
A nice balance of coming of age and physical horror. 7.5 out of 10.
The first book in the New York Vampire series, NYV: PUNK is followed by NYV: GOTH (2018). A prequel, AMYM: The Mamluk Who Defied Death (2016), will feature as a Vamped review.
PUNK is available on Amazon in Kindle and paperback format.
You can follow K. D. McQuain on Twitter: https://twitter.com/mcquain_kd.