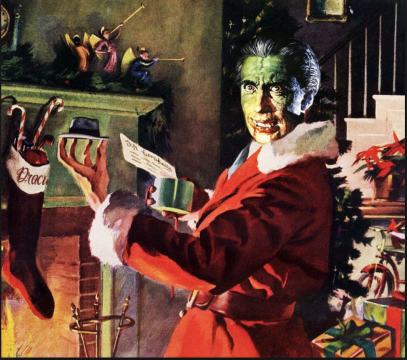 It's almost Christmas time and this year we aren't going to get any snow in Vancouver, just lots more rain. Last year, I spent Christmas in England so being home this year is a nice change of pace. As I am drowning in rain, Anthony is baking in the hot Australian sun. No snow man building for either of us!
At Vamped we like to put together some Christmas treats for our readers. This year I have tracked down some fun Christmas videos for your viewing pleasure and also put my writing skills to the test by putting a fun twist on the Christmas classic 'Twas the Night Before Christmas.
Sit back, grab some ginger bread cookies with eggnog and enjoy!
#5. A Christmas Quacker
For some of you old school vampire fans, here is a classic vampire cartoon you should see, if you haven't already. Count Duckula aired from 1988 to 1991.
#4. The Vampire Diaries and The Originals Holiday Sizzle
If you were a fan of The Vampire Diaries and The Originals like me, you have been missing both shows. This is a little Christmas cheer from all the hot vampires in Mystic Falls. And don't worry, Damon and Klaus are included!
#3. Little Dracula – The Bite Before Christmas
I had never heard of this cartoon before, but apparently it first aired on the Fox Kids network back in 1991. I love the red eyes, accents and the family dynamic.
#2. A Christmas Story: Vampire Mockumentary Edition
Who didn't like the vampire mockumentary What They Do In The Shadows? I know I enjoyed it. I came across this video on YouTube and it made me think of the movie. I love how she discusses the vampire community, drinking blood and casually mixes it with Christmas cheer and tradition.
#1. A Christmas Poem
Back in one of Vamped's first Christmas posts, I did my version of 'Twas The Night Before Christmas. This year I felt inspired to visit this again with a new version.
'Twas The Night Before Christmas in the Vampire Community
'Twas the night before Christmas and there wasn't a sound, Zebbie wasn't swimming and Watson wasn't running around.
The turtles were tucked in for the night just like I was in bed, and I decided to kill some time till I laid down my head. I logged into Facebook and checked our Vampire Community, wannabe vampires and sanguinarians were arguing, and so was Anthony.
As usual, vampire origins were being discussed on a post thread, Raven was explaining to some newbies in the group, that vampires aren't the un-dead. They were confused by her answers and asked about Twilight, they wanted to be like Edward and Bella, creatures of the night.
With Edward's ability to read minds and Bella's shielding skill, they couldn't understand, why no one could turn them into a vampire at will. Anthony tried to set them straight and brought up vampire folklore, but they wanted to hear about drinking blood and found him a bore.
He told them to refer back to the Arnold Paole case, exhumations were done and the dead were displaced. The word "vampire" emerged in English in 1732, and revenants can be ghosts and animated corpses too.
They weren't swayed by the facts and continued with their stories, about wanting to drink blood and get power and glory. They claimed they had vampire traits and burned in the sun, they were allergic to garlic and had the super ability to run.
They stayed up all night and didn't sleep till morning, they had constant cravings that came on without warning. Stefan and Damon Salvatore were their favorite vampires, they loved how they always saved Elena when it came down to the wire.
They wore ancient gold ankhs and were ever so proud, when questioned about the movie The Hunger, they just became obnoxious and loud. This leads us to vampire courts and clans, where people deem themselves elders, queens and kings, not just vampire fans.
They have all these rules about how the community should be run, when in fact our group is independent and about education with a dash of fun. There was no logic or reasoning with this crew and this kept going in circles till long after two.
Then all of a sudden a new group member popped up, his profile photo was a jolly old man holding a Christmas cup. I looked closer and couldn't believe my eyes, it was jolly St. Nick wearing tiny fangs that were bite size.
He reminded everyone that it's Christmas and to behave and be good, just like all boys and girls in the vampire community should. Put your differences aside if only just for one day, fill your hearts with love for each other and create a new way.
There is no need to be aggressive, rude or mean, you do it every day and it has become a routine. Whether you drink blood, are a psi, or are just a vampire fan, a supportive community is where this all began.
Now raise a glass of booze, hot chocolate, or blood and toast each other good tidings and send out some hugs. Everyone's mood changed and people were suddenly nice, paying each other compliments and giving advice.
Something very magical happened that night, everyone stopped bickering and discontinued the fight. Will they keep this up for the rest of year? Who knows, the forecast is unclear.
Santa Clause said he had to get back to his sled, and deliver the rest of the presents for the alive and un-dead. But before he signed and got back to his flight, he said, "Merry Christmas to all and have a bloody good night!"
Notes: