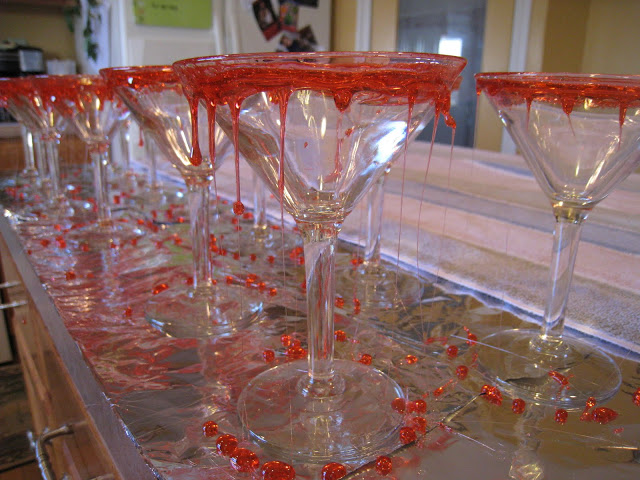 As we approach the end of January, like most people, your New Year's Resolutions have fallen by the way side. January 20th is the day most people tend to cave and give into temptation, resorting back to their old behavioral patterns.
We have good intentions; however, the idea of designating a specific date and time to go cold turkey on an emotional crutch is preposterous. This is an equation for failure if you ask me. So instead of sulking and showering yourself with disappointment, let's try another approach.
Call up some vampire-loving friends, dust off the martini glasses, get out the candles and open bar! If you have to justify it with a holiday, Valentine's Day is rearing its ugly head around the corner and not everyone is keen on the idea of spending it gushing over a current or potential love interest.
To make the evening more fun make sure to say vampire attire is a mandatory. The vampire theme is entertaining, distinctive and will be just what the doctor ordered for a fun filled night of bloody bedlam. To make your party a hit try our top recommended Vampire Drinks!
---
1. Vampire Kiss Martini
by Finlandia Vodka
from About.com
Ingredients: 
1 1/2 oz Finlandia Vodka

1 1/2 oz Korbel Champagne

3/4 oz Chambord black raspberry liqueur

Red sugar for rimming
Preparation: 
Rim the glass with red sugar (use food coloring) or drop in a set of wax vampire teeth for a real surprise.

Pour vodka and half of the Chambord in a martini glass.

Top with Champagne.

Pour the remaining Chambord over the back of a spoon to make it float.
---
2. Vampire's Dream
by Drinks Mixer
from Drinks Mixer
Ingredients: 
2 oz Bacardi® Select rum

7 oz cranberry juice

5 oz pineapple juice

1 oz Rose's® grenadine syrup
Preparation: 
Combine ingredients in a mixer and either shake or stir. Mix well. Serve over chipped ice in a highball glass. If mixed right it should be abouth [sic] the collor [sic] of blood.
---
3. Vampire
by Colleen Graham
from About.com
Ingredients: 
1 1/2 oz vodka

1/2 oz black raspberry liqueur

cranberry juice
Preparation:
Pour the vodka and black raspberry liqueur into a cocktail shaker with ice.

Shake well.

Strain into an old-fashioned glass filled with ice.
---
4. Blood Martini
by Ketel One Vodka
from About.com
Ingredients: 
1 1/2 ounces Ketel One Citroen Vodka

1 ounce Ginger Liqueur

1 ounce Dark Grape Juice

1/2 ounce Blackberry Syrup

Blackberries and raspberries for garnish
Preparation: 
Combine Ketel One Citroen, ginger liqueur, grape juice and blackberry syrup to a cocktail shaker full of ice.

Shake vigorously and strain into a chilled martini glass.

Garnish with two blackberries or raspberries.
---
5. Vampire Blood Martini
by Jason Dobrowner
from the The Kitchn
Ingredients: 
1.5 oz vodka

1.5 oz pomegranate juice

1.5 oz blood orange juice (1 blood orange)

1 tablespoon agave syrup

1 lime wedge
Preparation: 
Mix all ingredients in martini shaker with ice. Squeeze blood orange and lime wedge. Shake vigorously for 15 seconds and pour into chilled martini glass. Garnish with pomegranate seeds and sugar coated blood orange slice.
---
Happy mixing everyone!